4th of July Pinata Balloons are a fun patriotic craft idea idea for your Independence Day celebration.
It's been raining here in Minnesota and it isn't stopping. The rivers and lakes are overflowing. From mudslides to washed out roads things are a mess. Like many Minnesotans we are dealing with a flooded basement. Since both of my girls slept in the basement, they are now camped out in our living room along with a bunch of the stuff that was in the basement! Things are crazy, as always, but everyone is safe and sound, and that is the most important thing!
I have another patriotic party idea to share today: 4th of July Pinata Balloons! What kid doesn't love balloons…especially balloons that are filled with treats like a pinata? Each person at the party gets a balloon. When they are ready to get to the treats, they just pop the balloon!
To make the 4th of July pinata balloons, gather together red, white and blue balloons, tattoos, red and white wrapped chocolates, patriotic bracelets and sparkling necklaces.
Cut the top off of an empty, large-mouth, plastic bottle, such as SoBe Lifewater, to use as a funnel. Carefully stretch a balloon over the funnel and insert the treats.
 Peel the balloon off of the funnel and fill the balloons with air. You can see the items through the balloon! Tie a ribbon to the balloons and hang them from a tree outside or choose an indoor location.
Each person at the party gets one balloon. When ready to get to the trinkets inside the balloons on the 4th of July, just pop the balloon! A toothpick makes a great balloon popper.
I've been sharing balloon pinatas since January 2012! Here are a few more of the ones I've made.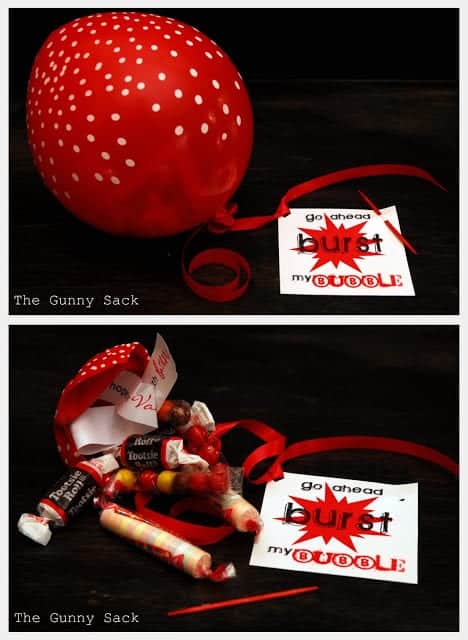 Go Ahead {BURST} My Bubble Valentines