Use this Adirondack Chair Makeover Tutorial to update your old chairs instead of buying new ones!
When I did my Backyard Refresh, I looked at my Adirondack chairs and knew that I either had to replace them or give them a makeover. I bought these chairs from my brother's garage sale several years ago. They were moving and didn't have room for them anymore. My sister-in-law had bought them at used too so they have been well loved!
The paint was slowly flaking away, they were dirty and in need of some color! I chose a cheerful aqua color and if you are a long time follower of The Gunny Sack, I'm sure you are aware that I love this color because I use it all the time. At least I am consistent, right? Anyway, I didn't want them to look just.plain.aqua. almost as if they were a plastic version. Instead, I wanted them to look a little worn or faded. So, I added a brown wash and a white wash over the aqua paint.

I started by spraying my chairs with a hose to clean them and to remove any of the loose paint.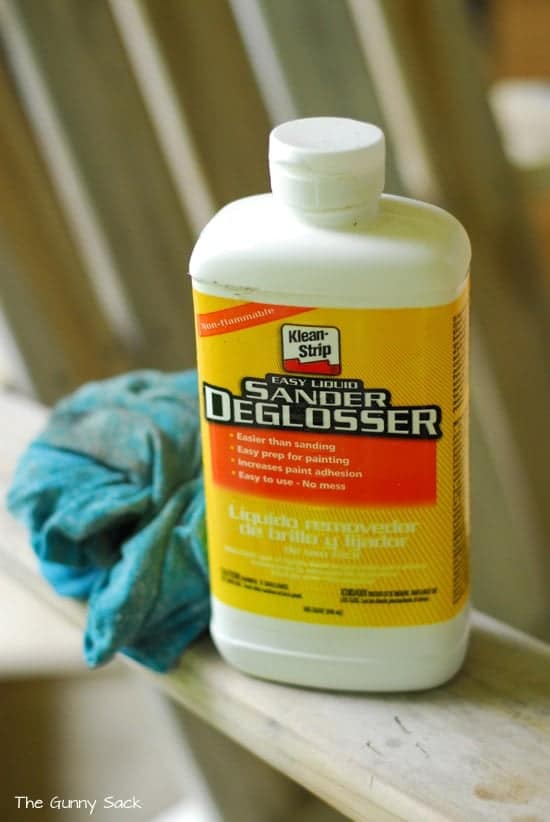 I didn't feel like sanding the chairs and didn't mind if some of the original paint was left on the chairs. So, after allowing the chairs to dry completely, I applied Klean-Strip Sander Deglosser according to the directions on the bottle.
After the Sander Deglosser dried, I applied aqua paint (thinned with water) with a chipbrush. I used Martha Stewart Craft Paint in the color Beach Glass because it is UV and weather resistant for indoor and outdoor use. I don't have a special formula for mixing the paint and water because the proportions really don't matter. I put aqua paint into a disposable plastic cup and added a some water until it was very thin. I mixed up more as I went along.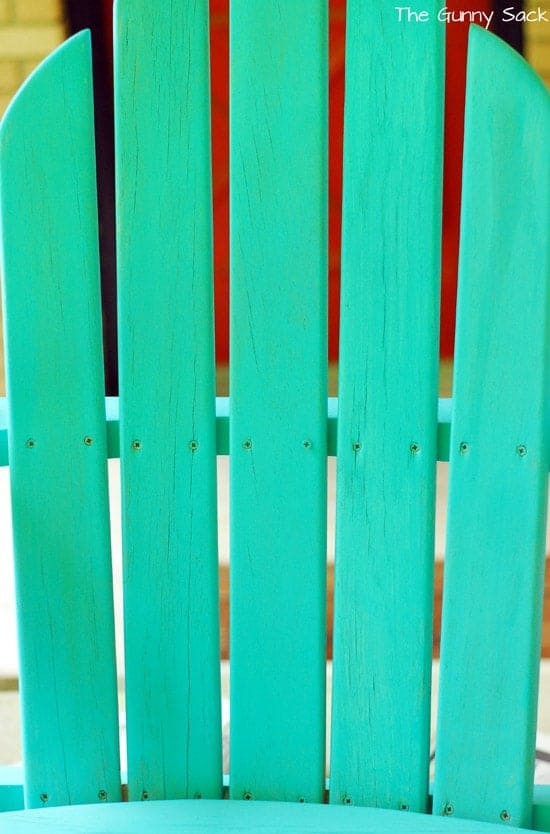 Here is what it looked like when I was done.
Next, I added a brown wash. I thinned brown paint in the same way as I thinned the aqua paint. I dipped my chipbrush into the brown liquid and then blotted most of the paint off of the brush onto a stack of napkins on a paper plate (all disposable because I love taking the easy route and because my husband uses up our rags like there's no tomorrow).
Then, I randomly brushed and dabbed the brown paint on the chair. Lighter in some places and heavier in others. Here is what it looked like when I was done.
Finally, I added a white wash. I thinned white paint and brushed it on the chair.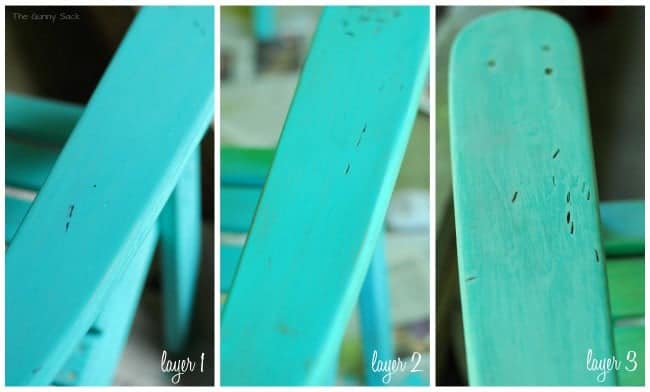 Here are all three of the layers on the chair's arm.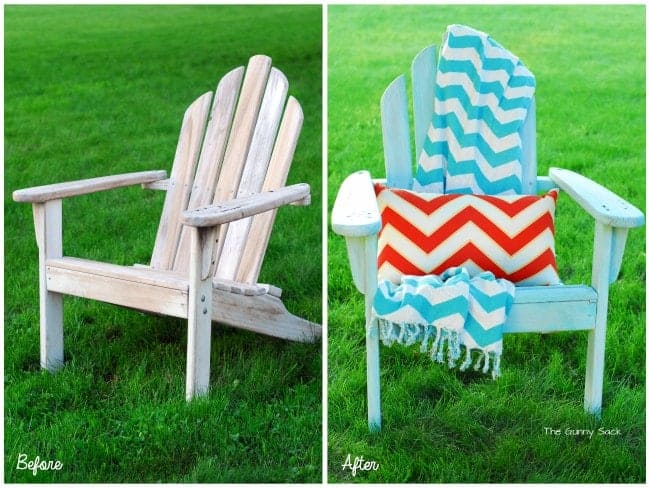 The final step was to add a clear coat to protect it from the elements. I used Krylon Colormaster Acrylic Crystal Clear Flat Spray Paint for Indoor and Outdoor use. I love the results of my Adirondack Chair Makeover and plan to use my chairs for many years to come!