Now that the sweltering heat of the summer is gone and the mosquitoes have gone into hiding, it is the perfect time for some al fresco dining! Get outside and enjoy the beautiful autumn weather with a picnic. As I've been telling you, my sister was married recently. We assembled a honeymoon picnic basket for the newlyweds. While searching for ideas, I saw some cutlery packets, and I just had to make my own version with baker's twine!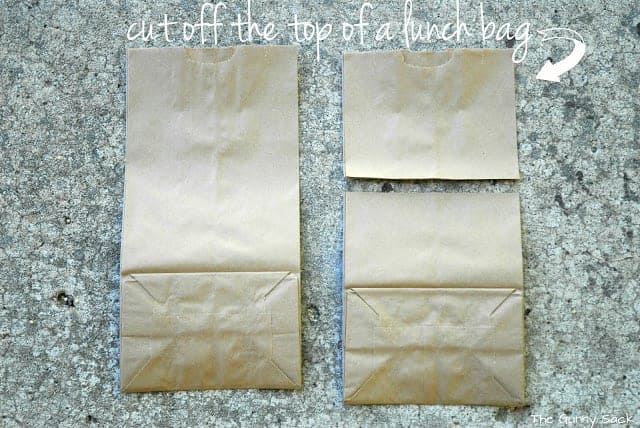 Start with a brown paper lunch bag. Cut off the top 4 inches of the lunch bag.
Open up the lunch bag piece so that the inside flaps are sticking out. Trim about 2 inches off each side.
Sew the sides and bottom of the remaining piece of the bag using a wide zig-zag stitch. Then, gather a napkin or two, plasticware, a straw, and baker's twine.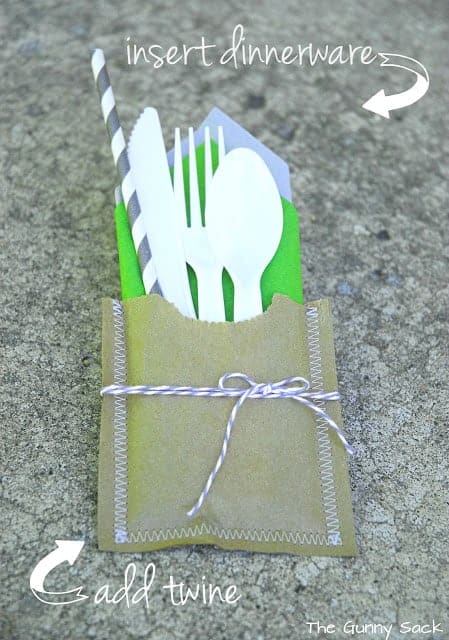 Fold the napkins and insert them into the packet. Next, insert the plasticware and straw. Finally, add a baker's twine bow.
I found this basket at a garage sale for 2 dollars. I removed the seventies fabric from the inside and then cleaned the basket. I removed the leather clasp pieces and spray-painted them silver. Then, I spray-painted the basket green since the wedding colors were green and gray.
It turned out great, and the newlyweds were delighted with the basket! The dinnerware packets could be used for weddings, parties, school lunches, or even dinner on your deck. They are a fun way to easily contain the items needed for a meal.