These mason jar mum candles look beautiful hanging on the front porch.
This is a Sponsored post written by me on behalf of Scotts Miracle-Gro. All opinions are 100% mine.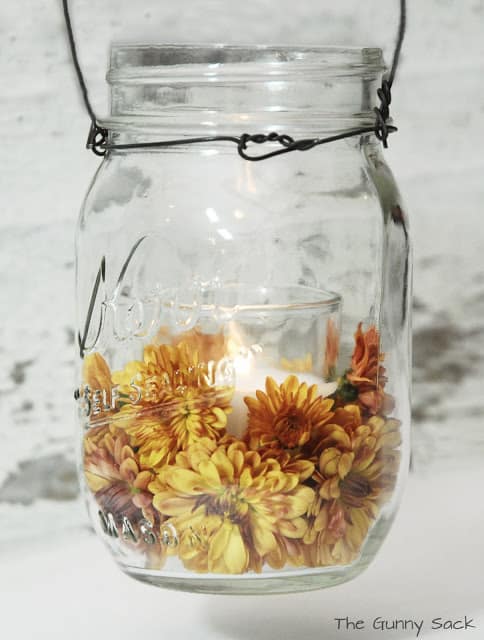 Although I love all of the seasons, I have to say that fall is my favorite! The crisp air, the beautiful leaves, pumpkins and apples! But maybe I love it because my birthday is in the fall. Whatever the reason, I am super excited for all things autumn!
One of the ways to
Find beauty in the Fall
is to plant flowers. Even though mums are a typical fall choice, I still enjoy them and pick some up every autumn. This year I bought mums that are a golden yellow tipped with orange. I plan to plant them outside and after a couple of weeks I can use Miracle-Gro LiquaFeed to help get beautiful flowers all fall.
I decided to use some of the blooms from my mums for fall decorations. I went on Pinterest and found some
acorn candles
. I love how they look so I decided to make something similar using mums. I bought a pack of 12 pint-sized mason jars and an 8 pack of candles in glass holders. I also found some wire and needle-nosed pliers.
I wrapped a piece of wire around the mouth of the jar and before twisting the wire tight, I looped the wire from the handle through the wire around the mouth of the jar. Then, I twisted the wires tight using my needle nosed pliers to help twist and to cut off any excess.
Next, I set a candle in the center of the jar. I cut several of the blooms off the plant and tucked them beside the candle holder. I used a pencil to help position them.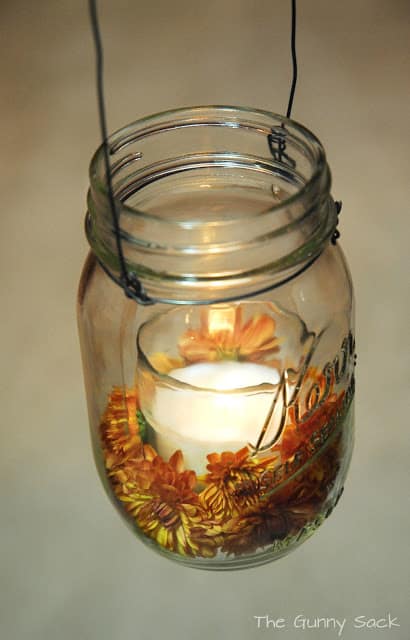 The final step was to light the candle! The mums won't last long in the mason jar but since my mum plants are going to be producing blooms for a long time, I can just refill the jar as needed!