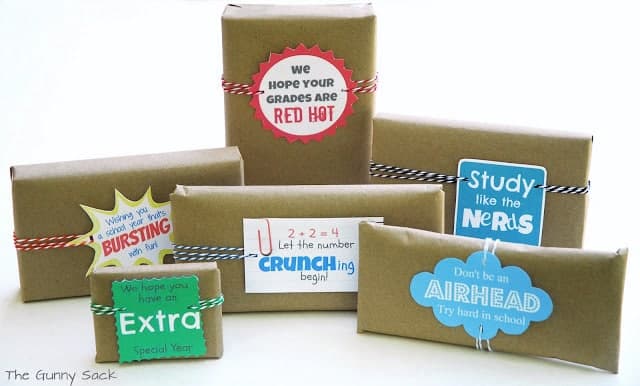 I've seen several cute candy grams on Pinterest. The ones that start with a large piece of poster board and have several candy bars attached along with words tying in the candy names. So, along those same lines I decided to make some "cheesy" back to school candy packages.
I decided to use Red Hots, Airheads, Extra Gum, Starburst, Crunch and Nerds. I made this printable with a saying for each kind of candy. You can get the printable by saving the image or by downloading it from here: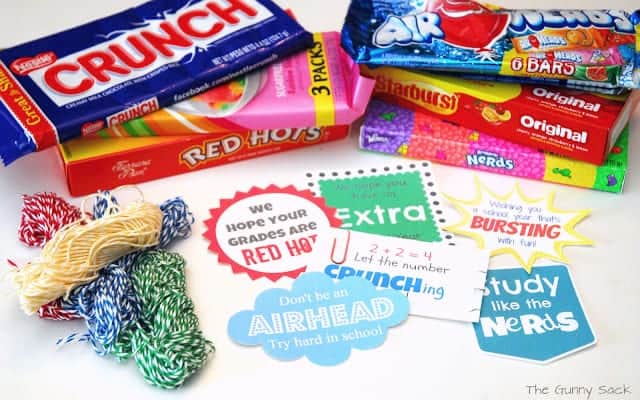 Supplies:
candy
tags
twine
paper
scissors
I planned to just attach each tag directly to the candy packages, but I decided that the tags would be lost. So, I wrapped each package in brown paper.
Using a paper punch, I attached the labels with baker's twine. I did the packages one at a time so that I wouldn't mix up the labels.

What are some more back to school candy sayings?
May You Find Time To Snicker
Be Sure To Work Extra Hard This Year
Don't Be A Dum-Dum
I Mint To Tell You I Think You're Great
I Think You're A Smartie