My Backyard Summer Refresh took my yard from boring to beautiful with the help of World Market.
This post brought to you by World Market . All opinions are 100% mine.
My backyard was sadly barren and need a summer refresh! I wanted to have a place to sit and enjoy a cup of coffee or with the kids in the evening. So, I went from an empty backyard to this adorable seating area filled with fun items from World Market!
We went shopping at one of our very favorite stores for the backyard summer refresh: World Market! Zack was gone camping and Christine was working, so Vanessa got to help me pick everything out. We were in the store for almost 2 hours and found so many things that we wanted to buy. Eventually, we narrowed our selections down to an orange and turquoise theme and ended up with a full cart!
Since my backyard didn't have any place to sit, I took my Adirondack chair from my front walk, where they were rarely used, and gave them a new coat of paint. If you do not already own chairs, World Market sells Adirondack chairs and other Outdoor Furniture!
Our backyard is a long empty space. The only seating available is my teen's folding lawn chair and the back steps. I thought the space between the trees would be perfect for an outdoor seating area. Vanessa helped me assemble the table and set things up in the backyard.
We set up the two chairs, the table, the lights and all of the accessories between the two trees.
The two orange Chevron print outdoor lumbar pillows from World Market are the perfect fit for the chairs.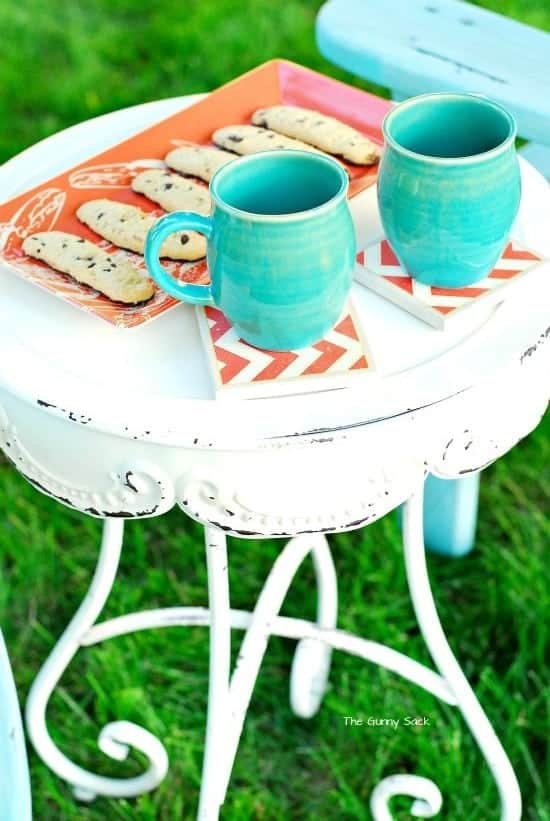 The white metal accent table we bought has a wonderful distressed finish. It looks beautiful between the two chairs and is the perfect place for enjoying a cup of coffee. World Market has so many wonderful Outdoor Dining items!
We bought two strings of turquoise paper lanterns and strung them between the trees. They look so pretty during the day because you can see the color and at night they are so fun to light up!
The turquoise Chevron print blankets from World Market will help keep us warm on cool summer nights and early mornings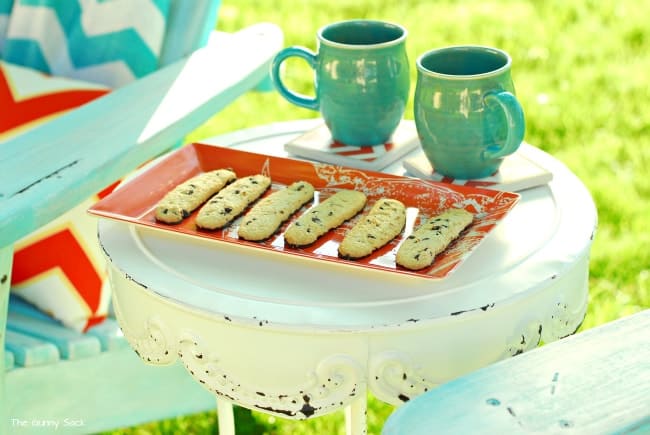 Our chocolate chip cookies fit perfectly on the orange rectangular seascape platter we purchased.
As the sun set, we brought out ingredients for making s'mores!
I drink coffee year round, regardless of the season or the weather! I am in love with these turquoise coffee mugs from World Market and they look adorable on the orange Chevron print coasters we bought. So,filled our cups with coffee to enjoy with our s'mores. Decaf for Vanessa and regular for me.
Our fire pit had been sitting outside of the garage and was full of dirty rainwater and mud. We emptied it out and carried it to the backyard to the seating area.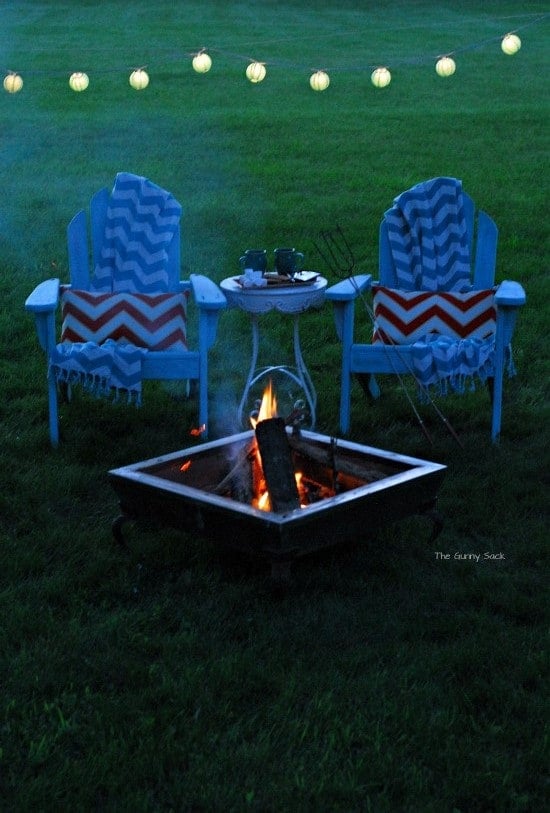 After much coaxing, we finally got a fire started and made our s'mores. Then, we sat down to enjoy it all.