This book page paper wreath tutorial is the first DIY home decor item I've made this spring, and it is a dollar store craft!
After taking down my winter wreath, I had a bare spot on my wall. Last year, I made a spring wreath with a cute little bird and some bunting on it. That wreath also had shredded paper, but it was in the form of Easter grass rather than shredded book pages. That wreath is on the wall in my craft room.
Since my craft room is in my basement, I really like the cheery colors of the wreath on my wall and didn't want to take it down. I've used book pages for crafts but wanted to make a DIY home decor item using book pages, so I decided to make a new wreath. I stopped by the dollar store and picked up a wreath to use. The rest of the supplies came from my stash.
Did you notice that I have a new backdrop in this photo? I am super excited because my sister gave me three pieces of aged wood to use as backdrops, so you will be seeing a lot more of this one, and be on the lookout for the other backdrops!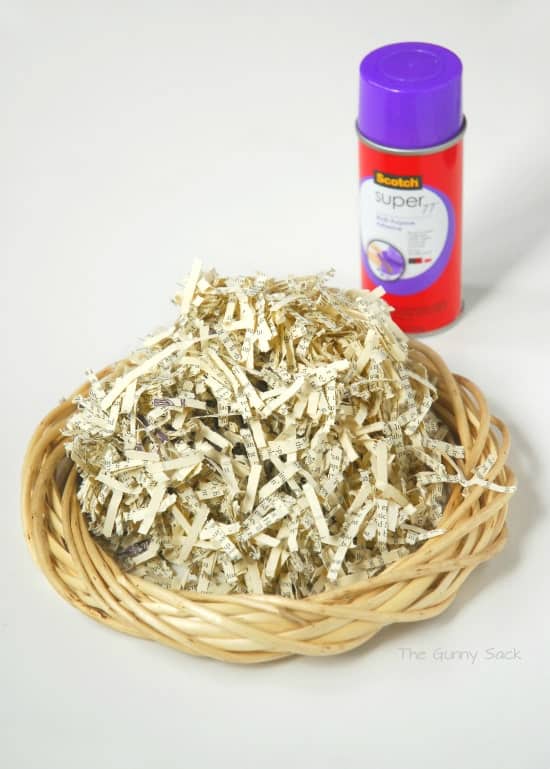 Start with a wreath from the dollar store. Shred pages from an old book using a cross-cut paper shredder. If you don't have any old books that you want to shred, pick up a $1.00 paperback or two from the dollar store. To adhere the book page shreds, I used Scotch spray adhesive I had on hand from my daughter's school project. If you don't have spray adhesive, a craft glue like Mod Podge would work.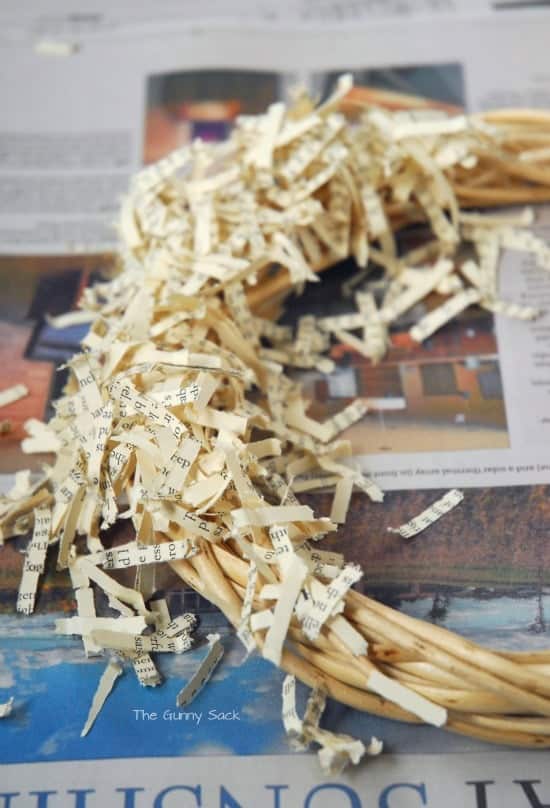 After laying down newspaper, spray the wreath with the adhesive and started piling on the paper shreds. Press and squeeze the paper onto the wreath. If using a craft glue, paint the glue onto the wreath before adding the shredded paper.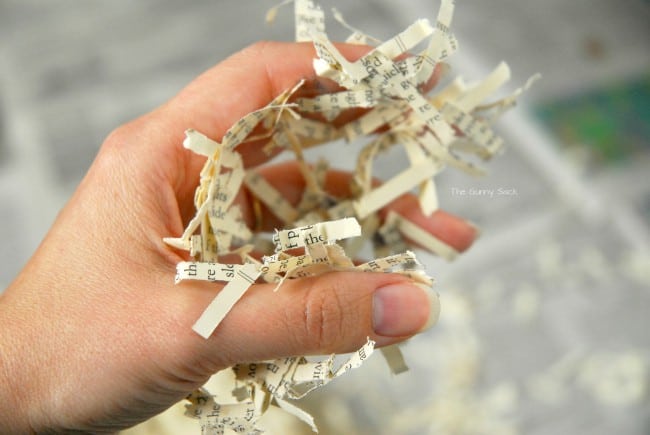 You might end up with book page paper shreds stuck to your hands. Oh well…crafting is a messy business, right?
Keep spraying on the adhesive (or painting on the craft glue) and adding shredded book pages, pressing as you go.
Once there is enough paper on the wreath, let it dry for a couple of hours before adding a ribbon. I grabbed this moss ribbon that I bought on clearance a while ago. It has been sitting in my craft room, waiting to be used. If you don't have moss ribbon, they sell moss at the dollar store, and it could be glued to a wide piece of ribbon. Or this wreath would look adorable hanging from a piece of burlap.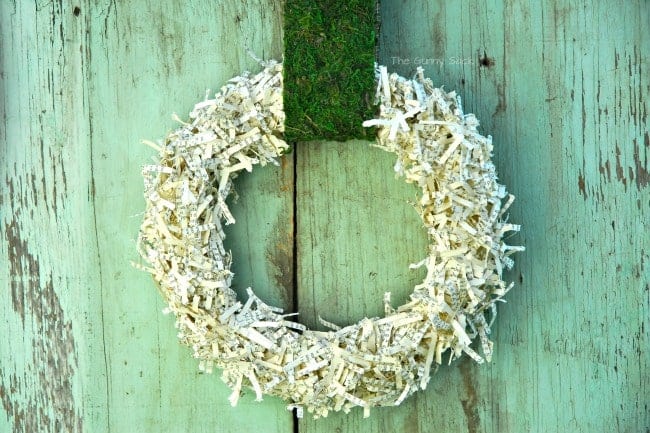 Loop the ribbon of choice through the wreath, and it is ready to be used as an indoor wreath.
I would like to try using a coffee table book of photos for a whole different look!