My chalkboard art dresser has become a craft supply storage solution! The hand lettering on each drawer tells me which craft supply is in that drawer making things easier to find. Since it is written in chalk, I can erase and rewrite the labels when I move items around.
In September 2011, I did a bedroom makeover for Vanessa. The makeover included painting her dresser white and adding chalkboard paint to the drawers. She was able to write on each drawer in chalk. Well, she no longer uses that dresser so I took it for my craft room.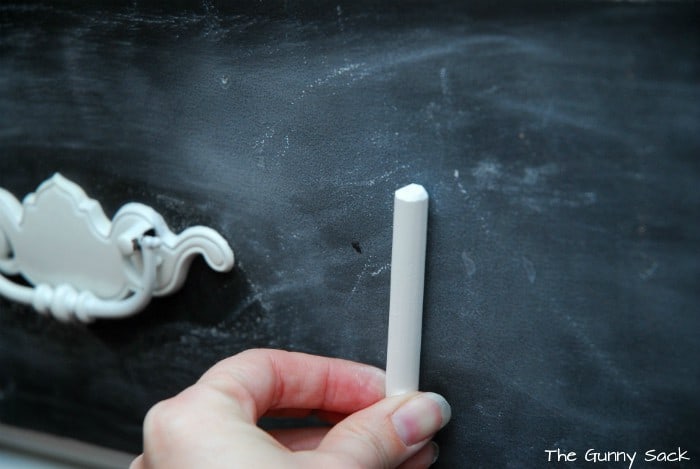 The previous hand lettering and drawings didn't want to come off very easily. I tried wiping the surface with a wet rag but some of the previous drawings still showed up. So, I rubbed the side of a piece of chalk over the entire surface.
Then, I used a foam eraser to smooth things out.
Finally, I wiped all of the drawers with a damp, lint free cloth.
Once the surface was fairly clean, I measured the empty spaces on either side of the drawer pull and drew a few guidelines.
Then, I started with the chalkboard hand lettering. I erased the guidelines with the damp cloth once I didn't need them anymore.
I also added a chalkboard number to each drawer.
I looked online at various chalkboard art items and chalkboard fonts for some inspiration, but mostly I was just winging it.
I read at Burlap and Denim that you can lightly spray chalkboard art with hair spray to keep things in place. Since my craft room is open to the rest of our basement and kids often play in our basement, I might end up spraying it.
I used cheap white chalk and changed pieces a couple of times. I also read at Sassy Style that you can sharpen chalk with the wider end up a makeup sharpener. But I don't have one so I just used the chalk as is.
I might end up going back to add more decorative touches in the blank spaces.
Even though my chalkboard "font" isn't perfect and my lines aren't straight, I am delighted with how it turned out! I am really surprised at how much fun I had doing the hand lettering with chalk! I am already wondering what chalkboard art project I can do next!