This Chocolate Mint Mason Jar Gift is full of pampering spa items and sweet treats. A gift in a jar is a homemade gift idea that is perfect for any occasion!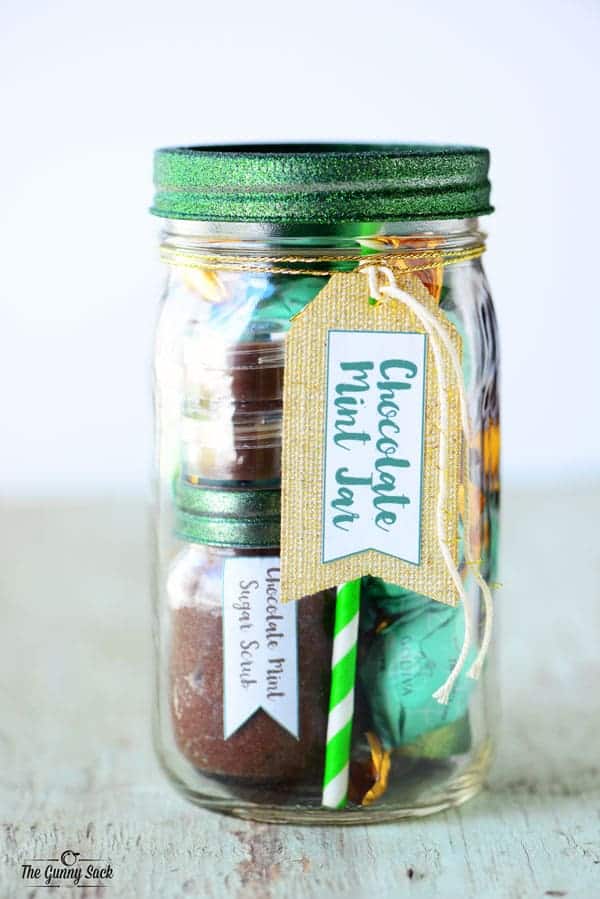 Before I get started on today's blog post, I want to talk to you about gifts in a jar. If you are a long time reader of The Gunny Sack, you know that I am a huge fan of mason jar gifts. I shared my very first gift in a jar post called Everything In A Jar way back in October of 2011!!
Since that time I've shared numerous mason jar gift ideas and I've seen countless other bloggers run with the idea, sharing their own versions. Nowadays, I mainly share recipes, as you know, but I have so many mason jars ideas in me and I really want to keep sharing them on my blog.
I still get a ton of visitor to my older mason jar blog posts, so I know that readers are still interested these fun homemade gifts as well. All the "experts" say that you are supposed to choose a very specific niche for your blog and stick to it, but I've decided not to listen to the experts, this time, follow my passion and share a few mason jar gifts while continuing to share delicious recipes. I hope that you find these gifts in a jar as enjoyable as I do!
This gift in a jar is perfect for the chocolate mint lovers in your life. It is a gift that you can give to the special women in your life from girlfriends and sisters to mom's and teachers. They would be perfect for a spa party or party favors at a bridal shower.
Disclaimer: This post contains links to products for making this recipe. If you use those links, I may earn a commission. Learn more here.
Start by spray painting the lid of a mason jar with green paint. I used Krylon Lucky Green Glitter Blast spray paint. and a Ball Wide Mouth Quart Sized Mason Jar. The burlap and gold label was from the dollar section at Target but you can easily cut your own from burlap. You can download ALL the free printable paper labels used in this blog post here:
—> Chocolate Mint Mason Jar Labels <—
I spray painted the lids of these mini mason jars using Krylon Lucky Green Glitter Blast spray paint and filled them with Chocolate Mint Sugar Scrub. (You can find the Chocolate Mint Sugar Scrub recipe here.) I also added a small metal candy scoop with a spray painted handle.
Find as many fun, cute, useful, delicious chocolate mint items as you can to fill the jar! When buying items for my mason jar gifts, I try to stick to a color theme to make the jars look prettier. As you can see, this jar has mostly shades of green and brown. There are other mint chocolate candies and truffles available, but their wrappers weren't green. Same thing with the hot chocolate mix. Here are the items I used: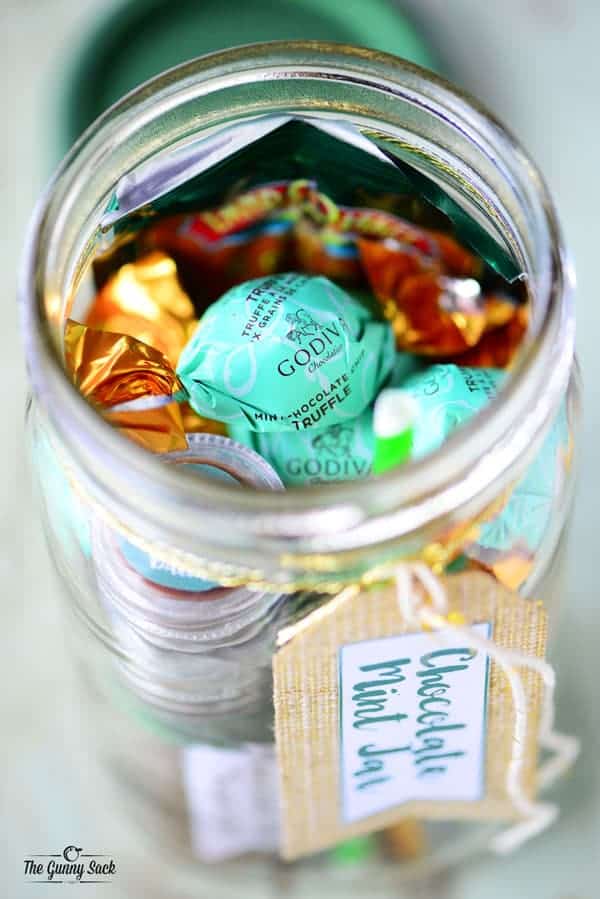 Fit everything into the mason jar as if you are putting together a puzzle.
Turn the labels to face the outside of the jar so that when you turn the jar around, you can see everything that is inside. Here is a look at the backside of the jar. It is much more appealing to see the front label of the hot chocolate mix than it would be to see the backside of the label.
Finally, add the green glittering lid and attach the label with gold string. This Chocolate Mint Mason Jar is full of pampering spa items and sweet treats. A gift in a jar is a homemade gift idea that is perfect for any occasion!
More Gifts In A Jar:
Peppermint Pampering Gift In A Jar