This Chocolate Mint Sugar Scrub recipe is made with brown sugar and coconut oil. This mason jar gift is a delicious way to relax without the extra calories!
What do you do to relax after a long, stressful week? Do you ever turn to chocolate for a little comfort? Do I ever have a recipe for you…today I'm excited to share this recipe for Chocolate Mint Sugar Scrub! It is a delicious way to relax and unwind and you don't even have to worry about the extra calories!
First, pour the fractionated coconut oil, sweet almond oil, and peppermint oil into a large bowl and stir to combine.
Next, whisk together brown sugar and cocoa powder in a small bowl.
Then, add the sugar mixture to the coconut oil mixture and stir until combined.
Looks and smells amazing! You might even be tempted to take a taste.
Scoop the mixture into a wide mouth mason jar. I spray painted the mason jar lid with Krylon Lucky Green Glitter Blast spray paint.
I also spray painted the handle of the small metal candy scoop because it is a fun way to get the sugar scrub out of the jar. This is a wonderful mason jar gift to give to the chocolate lovers in your life!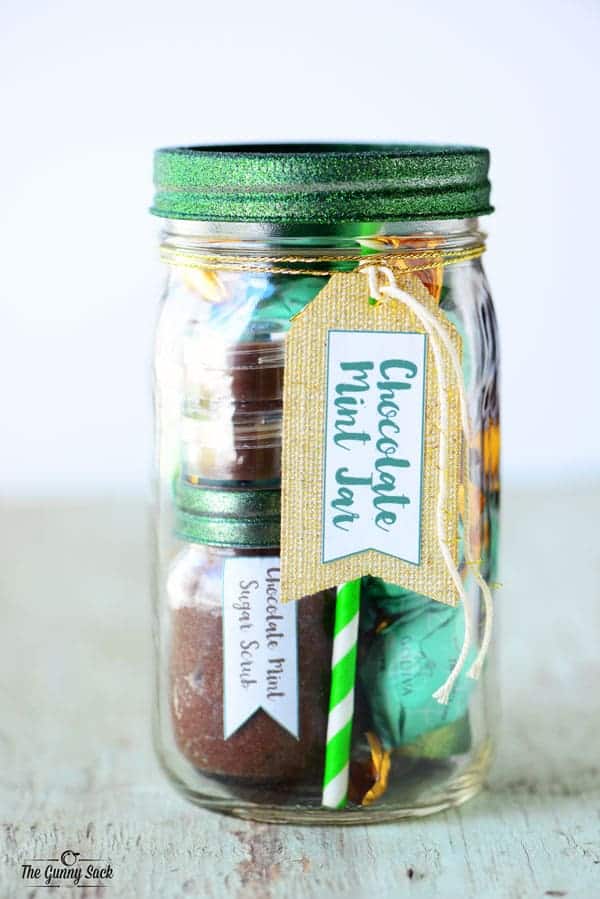 I added this Chocolate Mint Sugar Scrub to my Chocolate Mint Mason Jar!