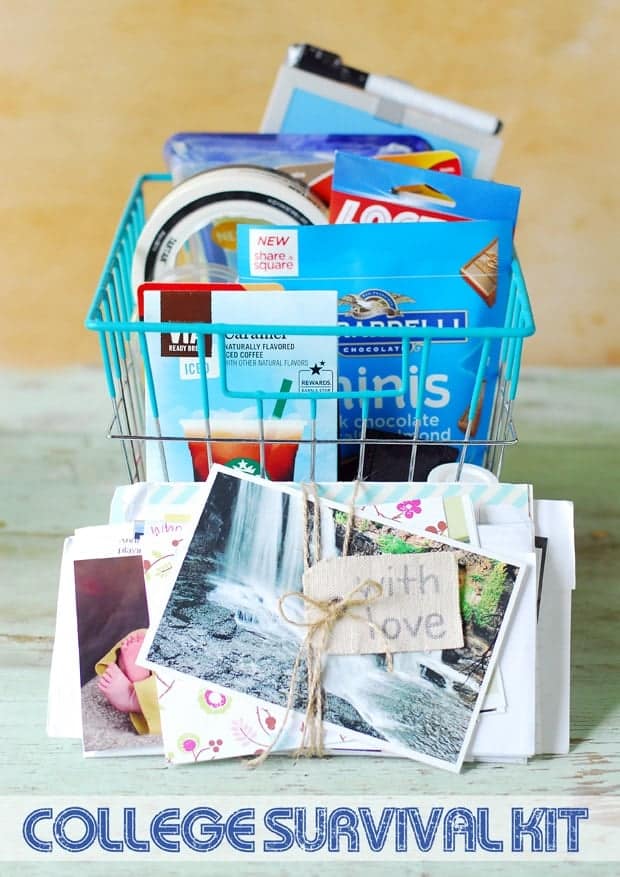 It's hard to believe that we need to start thinking about going back to school! Here in Minnesota, grade school doesn't start until the day after Labor Day for many of the kids. College, on the other hand, starts some time in August. We've noticed that school supplies are already on sale in the Sunday circulars. I showed my niece, who will be starting first grade and her reaction was very positive compared to my middle schooler's reaction! But a child starting college, is a whole new ball game and it requires different kinds of shopping and supplies.
Whether your child will be living at home while attending college or living in a dorm, give them a fun College Survival Kit! Start with a basket that they can use in their room. I found this wire basket at a department store.
Fill the basket with things that a college student might need beyond the things that they already think about taking. I added a pack of 3-in-1 laundry sheets, but any kind of laundry detergent could be put in the kit. I also put 3 kinds of tape into the basket: masking tape, duct tape and transparent tape. They can be used for anything from school projects to hanging things in a dorm.
Next, I added adhesive putty, super glue and removable hooks. These can be used to hang and fix things.
A multi-tool can be used to assemble and fix things. A whiteboard can be used for reminders, messages and notes.
I also put some mini chocolates, iced coffee mix and immune system support tablets. The chocolate and coffee might be useful during a late night study session. The tablets can be taken if they've been around sick students.
And finally, I included a packet of letters, cards and photos for when they are feeling lonesome. Ask friends and family to give you a letter or note to put with the kit.
Your son or daughter will love their college survival kit and you can feel a little better about sending them off on their own, knowing they have their basket of goodies. The kit can be as big or as little as you want. Other items to add could include organizers, batteries, a small vacuum, a one-cup coffee maker, a travel sized humidifier, a first aid kit with medicine and microwaveable food.
Here are a few more back-to-school ideas:
Back To School Candy Grams with Free Printables
Free Printable Lunch Box Jokes