I am a member of the Collective Bias™ Social Fabric® Community. This content has been compensated as part of a social shopper insights study for Collective Bias™ and Beiersdorf for NIVEA. #NIVEAmoments #CBias #SocialFabric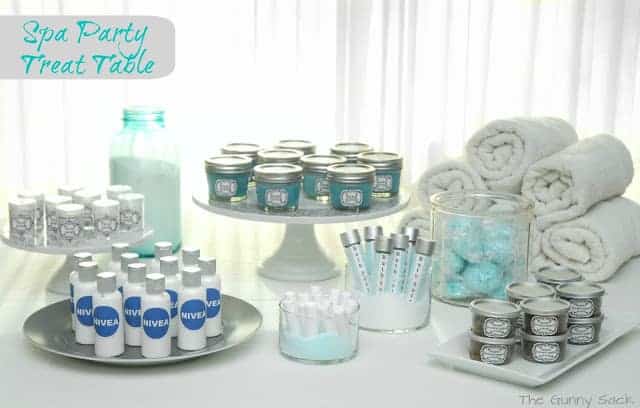 All week I've been sharing spa party recipes leading up to my NIVEA Pampering Spa Party! Finally, I get to share the party with you! I spend all week making the spa party treatments so that I could spend the day of the party cleaning house, setting up for the party and making them food. I am delighted with how everything turned out and my nine guests left my house feeling pampered and relaxed!
The spa party treat table included the following:
Maple Brown Sugar Scrub ~ Mix together 1 1/2 cups of brown sugar, 1/2 cup of olive oil and 1/2 teaspoon maple extract.
Bath Bombs ~ I made these but they didn't turn out right. I'll have to try again someday.
Lip Balm ~ I purchase a multi-pack of lip balm and peeled off the labels.
Peppermint Foot Soak ~ Mix together 1 cup of baking soda, 1/2 cup of Epsom salt, and the contents of 4 peppermint tea bags. It can be stored in an air-tight container. When ready to use the foot soak, add 2 tablespoons to a basin of warm water.
Foot Scrub ~ Combine 3 tablespoons of baking soda with 1 tablespoon of scented body wash and 1 tablespoon of water. Gently rub this mixture onto your feet and rinse well.
NIVEA Essentially Enriched Lotion
~ Purchased in dual packs, NIVEA at
Sam's Club
is a great value at only $8.98 for 2 16.9oz bottles!
Lavender Bath Salts ~ Put 3/4 cup sea salt, 1/4 cup plus 2 tablespoons epsom salt, and 2 tablespoons of baking soda in a bowl and mix well. Add a couple drops of lavendar essential oil. Stir until evenly distributed. Use a funnel to pour into test tubes.
I purchased small bottles from Joann Fabrics and spray painted the lids silver. I attached tags with craft glue and filled them with NIVEA so that each guest can have their own mini bottle.
At the party, we soaked our feet in various basins, buckets and containers.
While we soaked, we chatted and let the stresses of the week go. Taking time to pamper ourselves is about more than just taking care of our skin. We all have stressful lives in different ways and pampering helps let some of the stress go and gives us the opportunity to relax and laugh with our friends!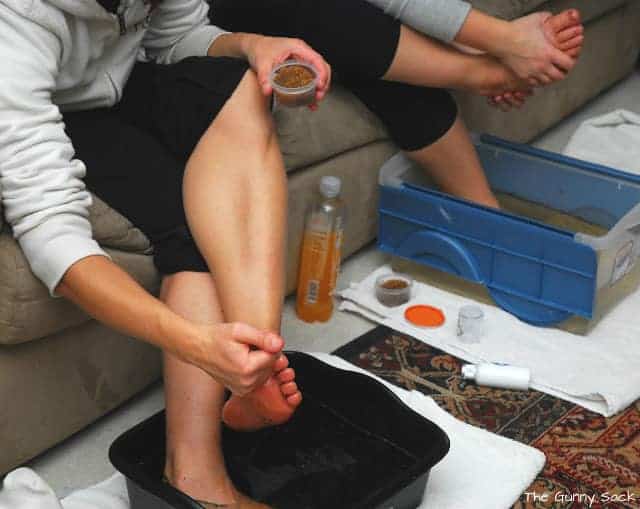 Once we had enough of soaking, we used the maple brown sugar scrub to exfoliate our feet.
Then, we applied NIVEA Essentially Enriched lotion to our feet. This NIVEA lotion is for very dry, rough skin. It contains almond oil for healthier, well balanced skin, sea minerals for softer, smoother skin texture and Hydra 10 Technology for all day moisturization. After soaking, exfoliation and using NIVEA lotion, our feet felt so soft and smooth!!
We made a face scrub using a dollop of face wash and some baking soda. Some of the guests used a face mask before moisturizing their faces.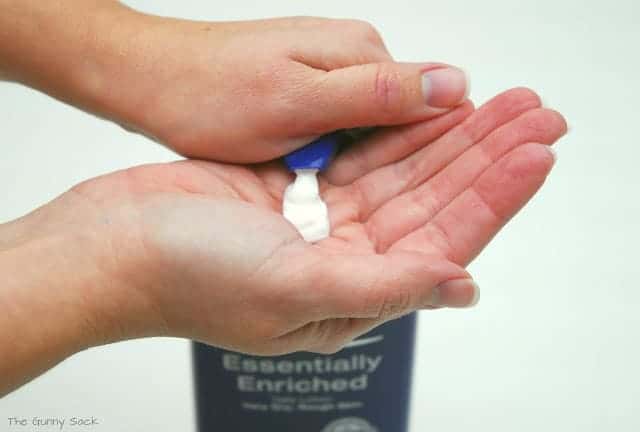 After using the hand scrub, we used NIVEA lotion to moisturize our hands. Everyone kept exclaiming about how soft and smooth their skin was!
I left the NIVEA Essentially Enriched lotion bottles out during the party so that the guests could refill their mini bottles.
No good party can be complete with delicious food! We had veggies with ranch dip, white chocolate dipped strawberries, pita chips with spinach dip, mini veggie pizzas (I will post this recipe soon) and brownie & cookie cupcakes (I will not post this recipe because it was somewhat of a failure).
My mom was unable to come to the party so I assembled a Pampering Spa Party Gift Bag for her. She is very excited to try it all out!
There were LOTS of people who couldn't make it for various reasons and I have to say that they sure missed out! But since we had such a great time, we all agreed that we are going to do it again very soon. One of my friends suggested that we do again next week! Sounds like a great idea to me!
Keep In Touch with NIVEA
Website Facebook Twitter Pinterest
When is the last time you pampered yourself?
I am a member of the Collective Bias™ Social Fabric® Community. This content has been compensated as part of a social shopper insights study for Collective Bias™ and Beiersdorf for NIVEA. #NIVEAmoments #CBias #SocialFabric