A Golden Pampering Mason Jar Gift has golden spa items. Post includes recipes for shimmering brown sugar scrub, gold dust foot soak and sparkling bath bombs. This gift in a jar is perfect for so many occasions!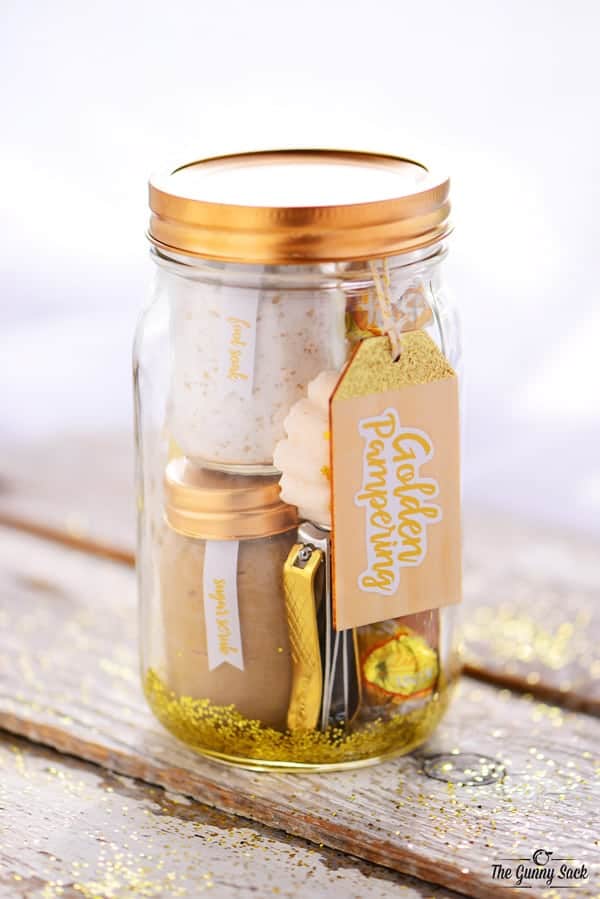 I have a long time tradition of sharing mason jar gifts and they have become extremely popular as a DIY Christmas gift. I shared the first gift in a jar during October 2011 and I've been sharing a few every year since then. So, this week I am taking a break from sharing recipes and will be showing you more mason jar gifts that you can make for the holidays.
The first gift in a jar is the Golden Pampering Mason Jar Gift. It is can be given for any occasion or holiday from a bridal shower to a birthday party and Mother's Day to Christmas. And you might want to make additional spa items to keep on hand for yourself when you need a day of relaxation.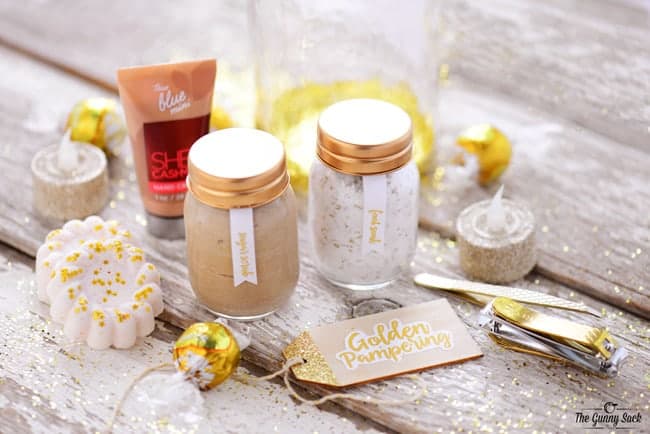 This jar includes:
Glitter Kerr Quart Mason Jar
Two Glittering Bath Bombs (recipe below)
Gold Dust Foot Soak (recipe below)
Shimming Brown Sugar Scrub (recipe below)
To prepare the Kerr quart size mason jar, spray paint the lid with metallic gold spray paint. Then, paint the bottom of the jar and up the sides about half an inch, on the inside of the jar, with Mod Podge and sprinkle with gold glitter.
Sparkling Bath Bombs Recipe
Recipe type: Bath and Body
Makes: 4 small bath bombs
Ingredients:
1/4 cup baking soda
2 tbsp citric acid
2 tbsp epsom salt
2 tbsp cornstarch
1 tsp coconut oil
1/4 – 1/2 tsp water
3 drops brown sugar fragrance oil, optional
3 drops vanilla fragrance oil, optional
Fine mist spray bottle with water, if necessary
Instructions:
First, sift together the dry ingredients.
Melt the coconut oil in the microwave. Stir in fragrance oil and water. The amount of water needed will depend on the humidity of your house.
Pour the coconut oil mixture over the dry ingredients and stir with a whisk. The mixture should start clumping on the whisk.
Scoop up some of the mixture and squeeze it in your hand to see if a ball will form. If it does, the bath bomb mixture is ready. If not, spritz the mixture lightly with water, whisk and check again. Continue spritzing and mixing until the mixture is slightly damp and will clump together. Again, this will vary depending on your climate.
Sprinkle some edible glitter stars on the bottom of four molds. I used vintage fluted metal molds from a thrift store.
Spoon three tablespoons of the bath bomb mixture into each of the molds and pack it in with your fingers until you can't pack any more in.
Turn the mold upside down over a piece of waxed paper to remove the bath bomb. Gently tap the mold or tap on the sides of the mold with a metal spoon until the bath bomb slides out.
Allow the bath bombs to dry uncovered. This will take a minimum of 24 hours.
Store bath bombs in a container with a lid, or a plastic bag, to keep them dry.
The gold stars will stick to the bath bombs and dissolve when used.
Gold Dust Foot Soak
Recipe type: Bath and Body
Instructions:
Whisk together the baking soda, epsom salt, sprinkles, and brown sugar fragrance oil.
Shimmering Brown Sugar Scrub
Recipe type: Bath and Body
Instructions:
Whisk together the coconut oil and sweet almond oil.
Whisk in the brown sugar.
Stir in fragrance oil, if desired.
Be careful when using because products containing oil can make the shower/tub slippery!
Put the sugar scrub and foot soak into small mason jars with gold spray painted lids. Print out the labels (you can download my labels here), cut into strips and glue onto jars.
Cut out the Golden Pampering label and glue it onto a wooden gift tag. The ones I used were from the Dollar Spot at Target. They are no longer available but you can buy wood gift tags and add gold glitter to the top with Mod Podge.
Slowly put everything into the mason jar. It might take a little rearranging to get everything to fit.
I stacked the two small mason jars on top of one another.
Tie the Golden Pampering label onto the jar and the jar is ready to give to someone as a gift. This Golden Pampering Mason Jar is so much fun that you just might want to keep it for yourself!
Here are a few more of the mason jar gifts I've shared:
Loves To Bake / Tea Time Mason Jar / Chocolate Mint Mason Jar
Pedicure In A Jar / Spa In A Jar / Peppermint Pampering