One of the biggest challenges during the school year is organization and clothing is a big part of that. Having outfits ready to go will keep the morning running smoothly and help you to get out the door on time.
To help accomplish this I bought a 6-Shelf Closet Organizer from Target for $7.99(on sale this week for $6.99). There are cheaper 4 shelf ones in the Dollar Spot for $2.50 but I wanted one with at least 5 shelves.
I love the look of printed fabric and felt that it would hold up well as labels. So, I printed the days of the week onto 2 pieces of fabric. You can download this printable HERE
I cut the labels into equal size rectangles, leaving a space above each day for attaching to the shelves.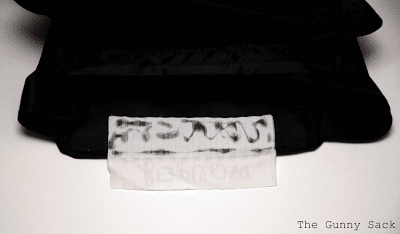 Using my trusty glue gun, I hot glued the labels to the underside of each shelf.
When filling the shelves, remember to add socks, underwear and any accessories. Also, if your child has a sport they participate in, put their uniform in that day's spot. My son is in karate on Wednesdays so you can see his uniform with Wednesday's outfit. If there is a special day at school, such as school spirit day, you can plan ahead by putting the right color outfit in the right spot.