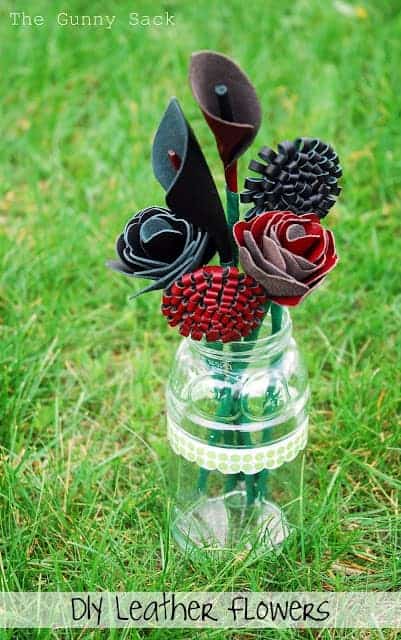 This is something I love doing.  If you are a regular here at The Gunny Sack, you've seen my tutorials for other recycled items like wire memo boards with used frames, painted vintage trays, painted leather flower headbands, zipper flowers, brown bag envelopes, and a wall hanging from barn wood.  For this project, I decided to make leather flowers.  To get me started, I received this craft kit that included 3 canvas panels, a picture frame, scissors, a glue gun, and paintbrushes.  This kit really got my mind whirling with so many ideas that I didn't know which direction to go!  I ended up using scissors, paintbrushes, and a glue gun for this leather flowers tutorial
I enjoy working with leather.  I've made leather baby shoes, leather headbands, a leather camera case, a leather sunglasses case, and painted leather flowers for headbands.  I always use recycled leather that I get from so many different sources.  Some of the leather is from our used jackets, some of the leather I purchase second-hand, and some are given to me by friends and family.  It is hard to find leather in unique colors.  I mostly find black and brown leather.  For this project, I used a black leather jacket and a red leather jacket.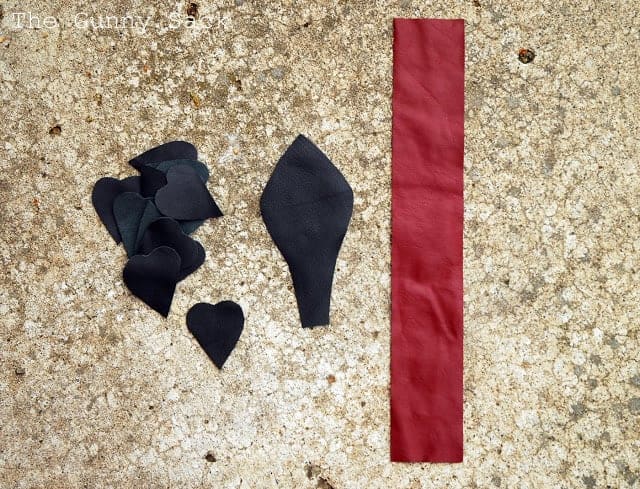 I made 3 different flowers: roses, calla lilies, and loopy flowers with no official name.  For the roses, I cut out 13 heart shapes.  For the calla lily, I cut out the shape in the center, which I have no idea what to call…a spearhead??  For the loopy flowers, I cut long strips of leather 2×12 inches long.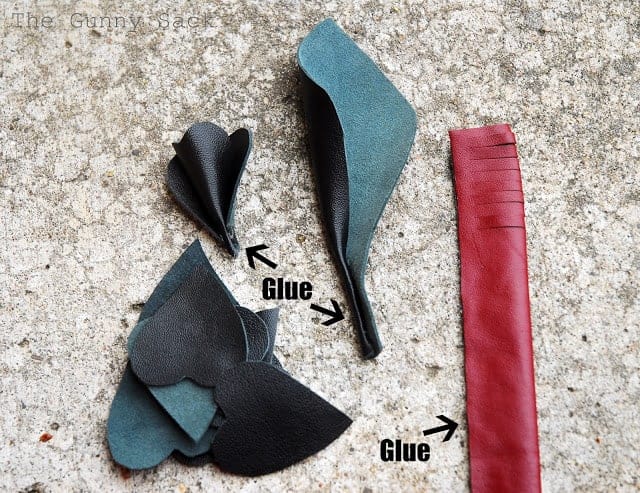 To make the roses, I folded one heart, wrong sides together, and hot glued the bottom point.  Then, I started wrapping hearts around the center heart, right sides facing in, and gluing them in place down at the point.
To make the calla lilies, I put hot glue on the long rectangular piece at the bottom and rolled it up. Then, I cut a small strip of leather for the stamen and glued it to the inside of the flower. I ended up cutting off a little of this glued part when attaching the stem because it was too long.
To make the loopy flowers, I folded the leather strip in half and hot glued the edges together.  Then, I cut small slits in the leather.  I didn't measure them out, but I tried to cut them evenly.  Next, I rolled up the strip, hot gluing it in place along the way.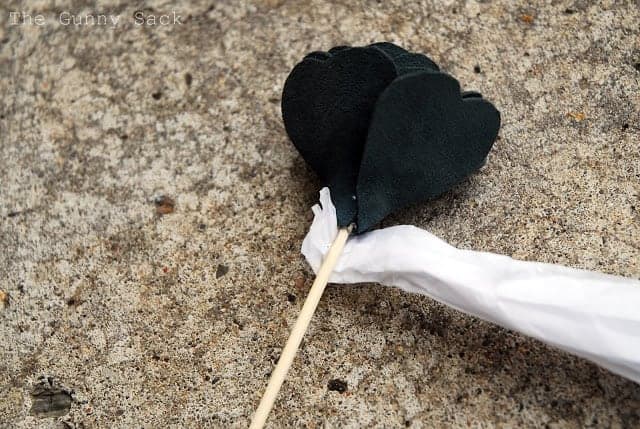 To make the stems, I hot glued wooden skewers to the flowers.  Then, I took crumpled strips of tissue paper and wrapped them around the very bottoms of the flowers and around the skewers.  I used hot glue every once in awhile to keep it in place.  For the loopy flower, I cut a circle of leather that I hot glued to the back of the flower with the skewer between, and then I wrapped the stick.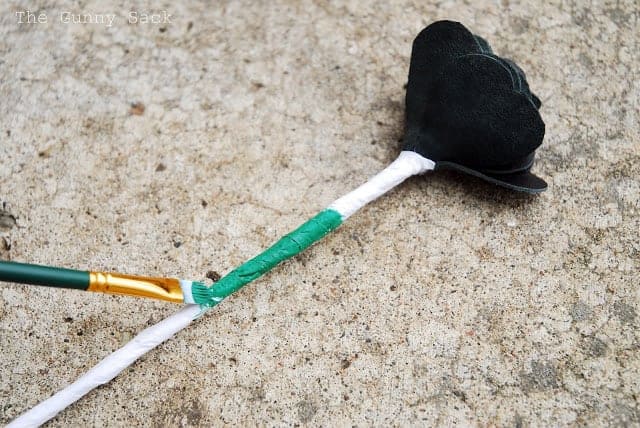 Since I used white tissue paper left over from Christmas, I needed to paint it green.  I had some craft paint on hand from various projects and had just enough for these stems.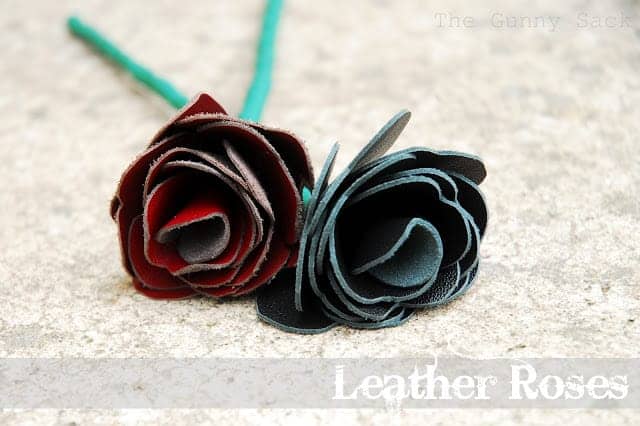 I chose not to make leaves and thorns, but they would be a nice addition.  I love how they turned out and am trying to figure out how else I can use the flowers.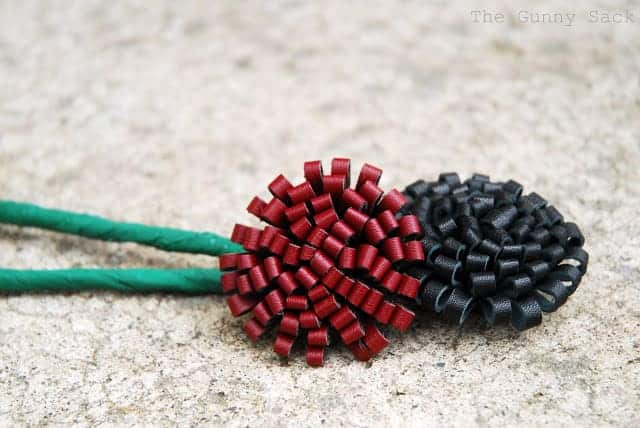 These loopy flowers could be put on headbands, hair binders, or so many different things because the bottoms of the flowers are flat and, therefore, easy to attach.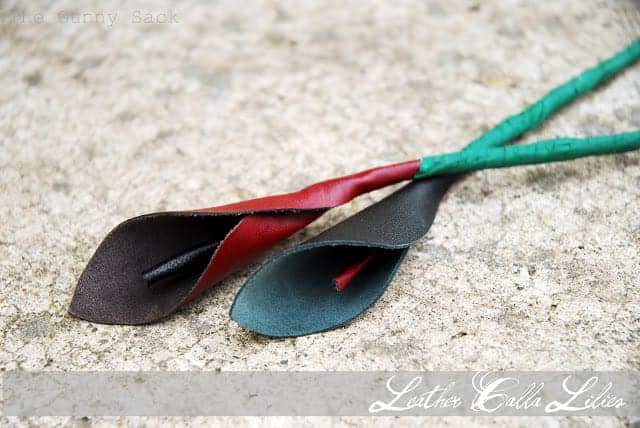 The calla lilies are very elegant, and although I have never seen a black calla lily, they do exist…well they are called black calla lilies, but they are actually really dark purple.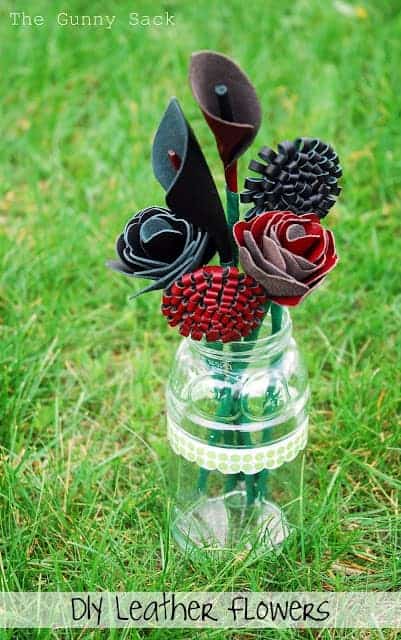 I put the flowers in a recycled glass jar and put a strip of washi tape around the jar for decoration.
John Mecier is a celebrated mosaic artist who created 4 works of art using people's trash, including items collected during Great American Cleanups from around the country as well as items donated by celebrities such as Jesse Eisenberg (The Social Network), Raphael Sbarge (Once Upon A Time) and Nathan Kress (iCarly).  These works of art are up for auction right now during the Glad Black Bag art auction on eBay, and the proceeds will benefit Keep America Beautiful's Great American Cleanup.  The auction runs from April 16 through April 26.
What have you made from recycled items?