This post may contain affiliate links. Please read my disclosure policy.
I bought my iPad a few months ago but never purchased a case for it. I've been wanting to order one of those mini keyboard/case combinations, but it hasn't been a priority. My iPad does have a protective screen cover, but I wanted something more substantial. I recently got a new handbag (more about that soon) which you can see in the background, and I thought it was the perfect time to make an iPad cover.
I have several second-hand leather jackets that I purchased for making leather baby shoes. I haven't made any baby shoes lately, but I kept the leather so that I could use it in other ways. For this iPad case, I chose a brown faux leather maternity jacket that was originally from Target. I laid the iPad on the jacket to measure how much I would need and then cut out a large rectangle. The bottom edge of the jacket has a nice finish so I used that for the top edge of the case.
I folded the rectangle in half, pinned it, and then sewed the side opposite the fold. The jacket was lined with brown polyester, and I kept that intact so that it could be the iPad lining as well.
I wanted the front of the iPad to have 2 original seams showing, with one seam on each side. So I positioned those 2 seams where I wanted them, and that caused the sewn side seam to move toward the center. Once I had it positioned where I wanted it, I pinned and then sewed the bottom edge. I could have left the iPad case at this point, but I decided to add a button clasp to help keep the iPad inside.
I took a long, narrow strip of leather and folded it in half. I sewed as close as I could to the folded edge and then cut the sewn leather strip off.
I made the strip into a loop and sewed it onto the back of the case.
Next, I sewed on a button with upholstery thread. I wanted to be sure that the leather loop would be able to fit beneath the button so I put my scissors under the button while I sewed it on to leave a space.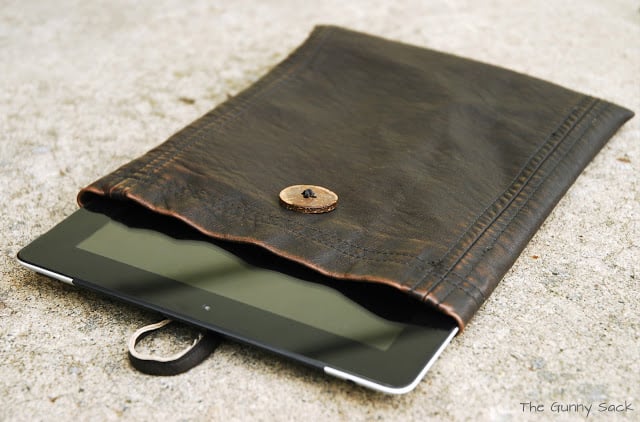 Now that it is done, I can't imagine why I waited so long to make it!