I am a member of the Collective Bias™ Social Fabric® Community. This shop has been compensated as part of a social shopper insights study for Collective Bias™ #CBias #SocialFabric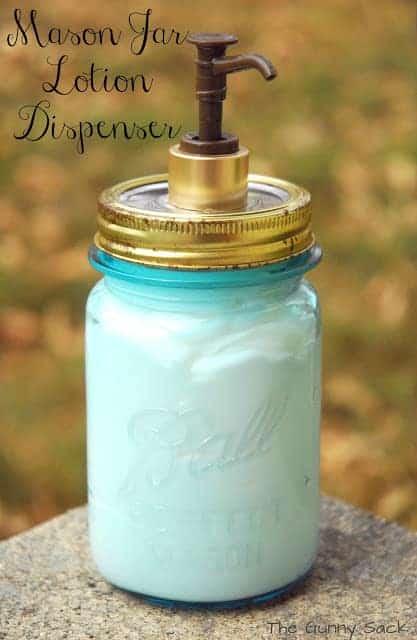 With winter on the way, we need lotion available in every room in our home. I also need it in my purse and in my van. Since I want the lotion to be easy to access, I decided to make a mason jar lotion dispenser for on my bathroom counter. My sister-in-law gave me a box of mason jars that she no longer needed. I fell in love with this blue one and chose it for the dispenser.
It isn't even winter yet and things are really dry due to the lack of rain. To give you an idea of how dry it is here in Minnesota this year, here is a picture of my right index finger. I've heard stories about how painful it is to have cracks in your fingertips and now I have first hand (pun intended) experience. Thankfully this is the only fingertip with a crack and I want to make sure I don't get more!
The jar came with a gold rim but I had to use a silver lid. I found a pump from an empty lotion bottle that will look good with the gold rim.
I asked my husband to drill a hole in the lid for me.
The pump fit through the hole and my husband gave me a rubber grommet to help hold it in place on the underside. I glued the gold part of the pump to the lid and glued the rubber grommet to the bottom side.
The tube on the pump was too long for the jar so I clipped it at an angle. I purchased Olay Ultra Moisture Lotion with Shea Butter from Target. It smells delightful and will work for everyone in my family.
I filled the jar with the lotion. There is still more in the bottle so I can refill as necessary.
This mason jar lotion dispenser is sitting on my bathroom counter and I've been diligently moisturizing my hands. My fingertip already looks better than it did when I took the photo above last Saturday!
What is your favorite lotion?
I am a member of the Collective Bias™ Social Fabric® Community. This shop has been compensated as part of a social shopper insights study for Collective Bias™ #CBias #SocialFabric