Give the gift of a good morning with a Rise and Shine mason jar gift filled with everything to make a delicious breakfast for two.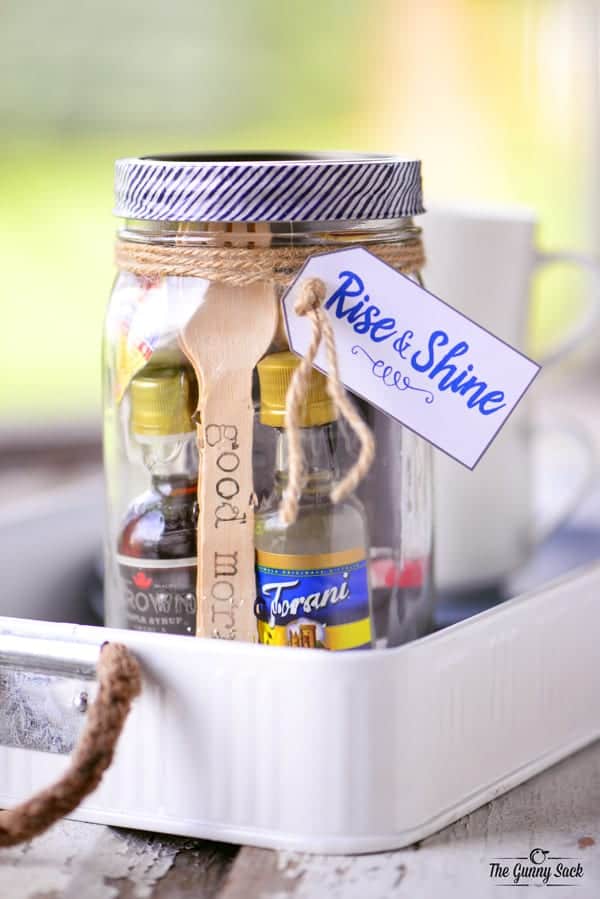 This Rise and Shine mason jar gift would be the perfect addition to a romantic weekend for a couple. But this gift in a jar can also be given to teachers, friends, or neighbors because everyone can use a reason to smile in the morning!
Disclaimer: This post contains links to products for making this recipe. If you use those links, I may earn a commission. Learn more here.
This Rise and Shine mason jar gift includes:
50 ml/1.69 oz Torani syrup mini bottle (could also use 50 ml Amoretti syrup)
Note: Many of these small, sample-sized food items, mason jar zipper bags, and wooden spoons might be available at World Market, especially during the holidays, so check there if you have one in your area.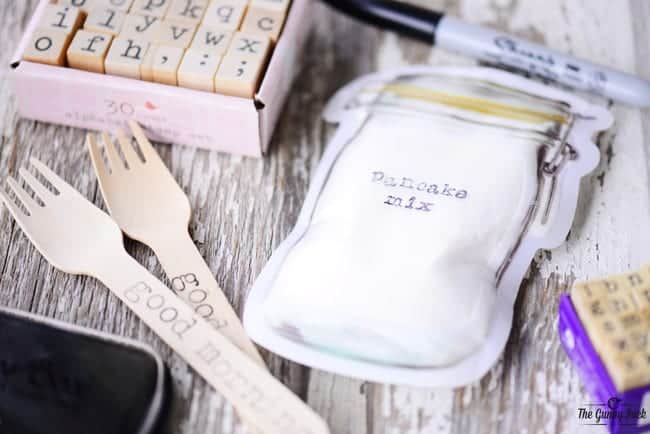 I used alphabet stamps to label the small mason jar zipper bag "pancake mix" and the wooden spoons "good morning". I bought the larger set of alphabet stamps from the dollar spot at Target and the mini set of stamps from the dollar bins at Michaels but I don't think they are available any longer. You can also find wooden alphabet stamps online.
You can use a Staz On ink pad which has permanent ink that stays on any surface. Or you can attempt to use a permanent marker to ink the stamps and then quickly stamp it before the ink dries. Another option would be to use handwritten letters.
I put 1/2 cup of pancake mix that can be made by only adding water. Then, I typed up the instructions for making the pancakes, printed them out and glued them to the mason jar zipper bag with Mod Podge.
After sealing the zipper bag, I fitted it along the side of the mason jar.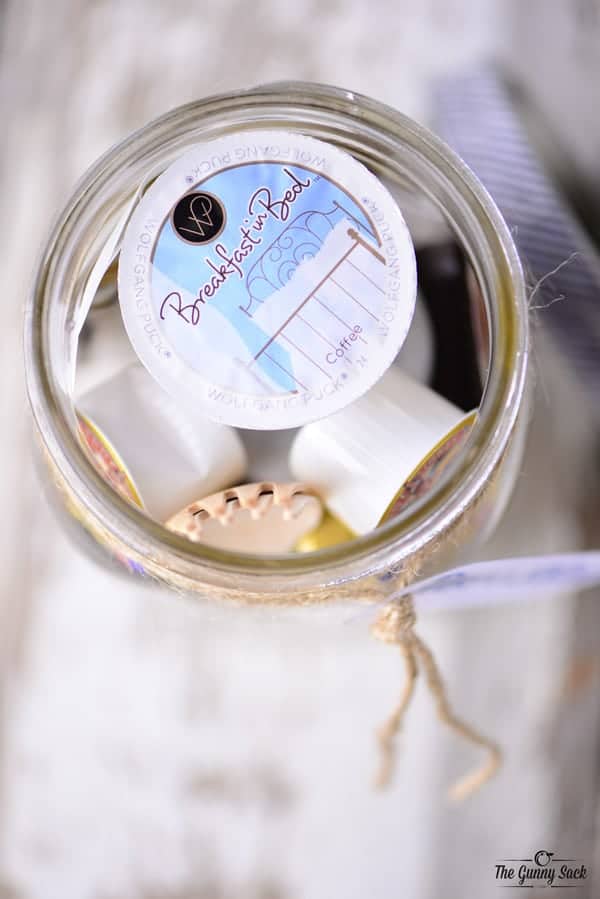 Then, I added all of the other items, rearranging things until everything fit.
I tried to make most of the items visible through the mason jar so that the recipient knows what is in the jar at a glance.
I nestled the wooden spoons together and slid them into the front of the jar so that the "good morning" shows through. To finish off the jar, I wrapped blue striped washi tape around the lid and attached a "Rise and Shine" label with jute twine. You can download the free printable labels here:
>>> Rise and Shine Labels <<<
This Rise and Shine mason jar could be given as an anniversary gift, Christmas gift or a teacher gift. Everyone can use a reason to smile in the morning and a gift in a jar like this would be a fun way to start the day!
Here are a few more of the mason jar gifts I've shared:
Loves To Bake / Tea Time Mason Jar / Chocolate Mint Mason Jar
Pedicure In A Jar / Spa In A Jar / Peppermint Pampering