Lavender Bath Salts are super easy to make! There's nothing quite like relaxing in a tub of hot water after a long day.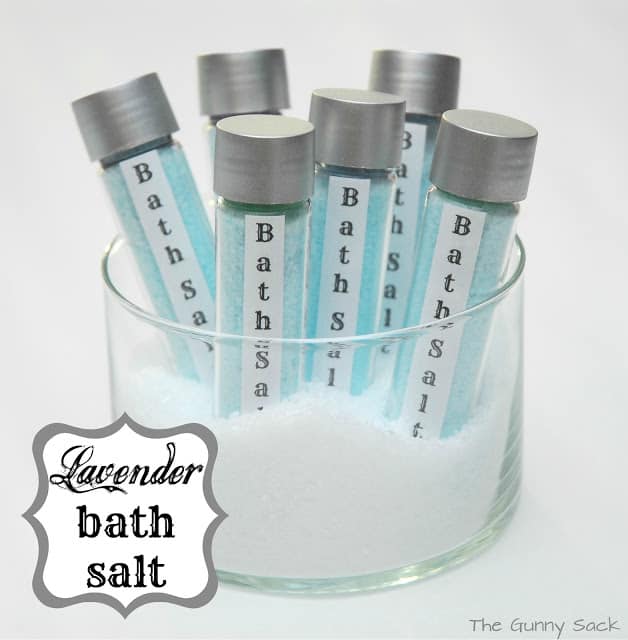 Make a batch of these lavender bath salts to keep for yourself and a second batch to give away as Christmas gifts or party favors.
Disclaimer: This post contains links to products for making this lavender bath salt. If you use those links, I may earn a commission. Learn more here.
For this recipe, I used sea salt, Epsom salt, baking soda, a couple of drops of lavender essential oil, and a couple of drops of blue food coloring.
Reasons To Use Lavender Bath Salts:
Sea salt (especially dead sea salt) can help with relaxation, muscle pain relief, reducing stress, enhancing circulation, decreasing inflammation, supporting detoxification, and possibly helping with skin issues like psoriasis and eczema.
Epsom salt can help with softening skin, exfoliation, relaxation, detoxification, and muscle pain relief.
Baking soda can help soften, smooth, and detoxify your skin.
Lavender essential oil can help with muscle pain relief, relaxation, stress relief, and trouble falling asleep.
Put the dry ingredients in a bowl and mix well.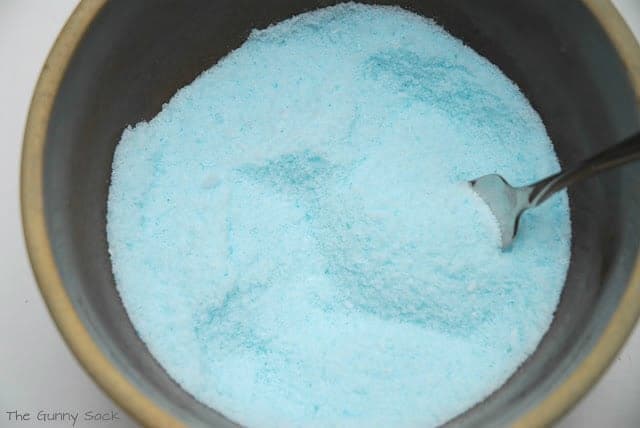 Add the essential oil and color (if desired) and stir until evenly distributed.
Use a funnel to put the bath salts into test tubes or small containers.
Tips About Lavender Bath Salts Test Tubes:
I've ordered these test tubes from Amazon and used them like this.
They are sometimes available in the bargain bins near the cash registers at Michaels, like the ones in this post.
Check for glass test tubes at Hobby Lobby where there are science kits for kids.
Learning/education stores might also sell test tubes for young scientists.
If the caps aren't the color you want, spray-paint them!
Test tubes come in various sizes. The lavender bath salts recipe can be easily adjusted or doubled to fill all of the containers you need.
Print out the bath salt labels, cut them down to size, and glue them to the test tubes using a glue stick.
You can download the free bath salts printable labels HERE.
For the party, I put the test tubes in an old glass candle holder with Epsom salt in the bottom to hold them in place.
Lavender Bath Salts Recipe
Makes: 1 cup
This recipe can easily be customized by substituting your favorite essential oil and color.
3/4 cup of sea salt
1/4 cup plus 2 tablespoons of epsom salt
2 tablespoons baking soda
a couple of drops of lavender essential oil
a couple of drops of blue food coloring
Put the sea salt, Epsom salt, and baking soda in a bowl and mix well.
Add the essential oil and color. Stir until evenly distributed.
Use a funnel to pour into test tubes.