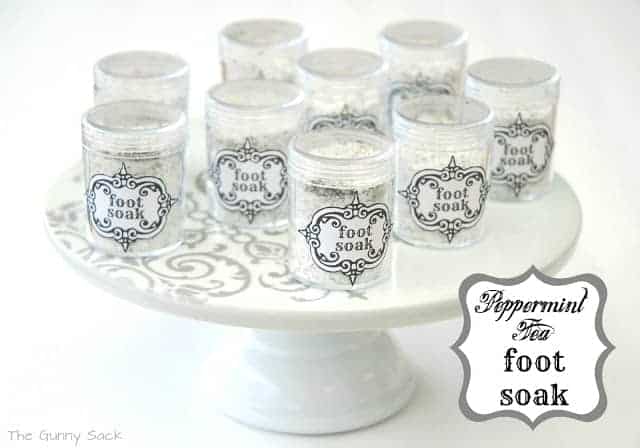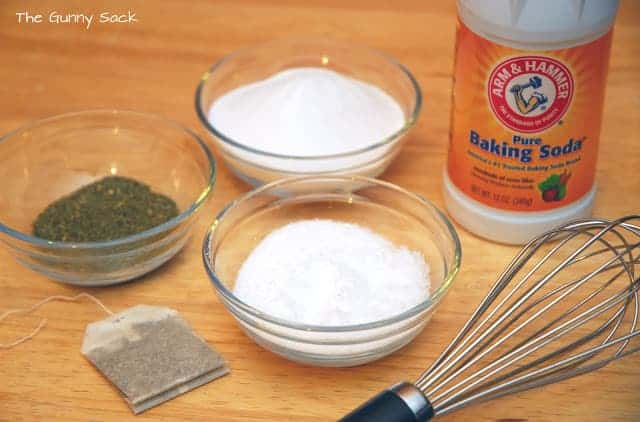 So yesterday, I promised I was going to be sharing some spa recipes this week leading up to my spa party. I actually think I should officially call this week: Spa Week! I am trying to make many of the products we will be using at the party. Not only will this save me money but it is fun to do. Plus, you can use the recipes I will be sharing to relax during the holidays and make extras to give as homemade Christmas gifts! One of the ingredients I am using to make some of the products is baking soda Yep, the stuff in the orange box that everyone has in their cupboard can be used for more than baking and cleaning!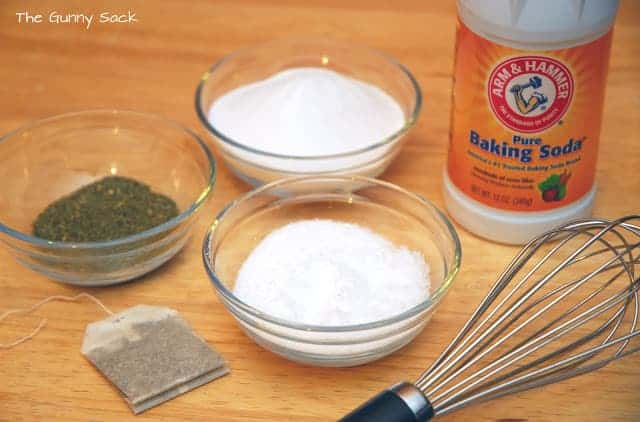 The first thing I made was a Peppermint Tea Foot Soak. Not only does peppermint add a wonderful smell to the foot soak, it also refreshes tired feet. I used 1 cup of baking soda, 1/2 cups of espom salt and the contents of 4 peppermint tea bags.
Put the baking soda, epsom salt and peppermint tea into a bowl and combine with a whisk. At this point, it can be stored into an air tight container. When ready to use the foot soak, add 2 tablespoons to a basin of warm water.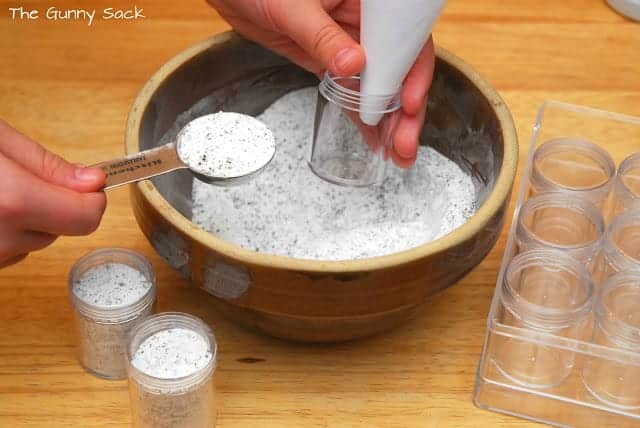 Since we are having a party, we put the foot soak into individual containers that are ready to use. I don't have a funnel so I just made one out of paper. I purchased the containers in the beading section of a craft store and used a 40% off coupon. If you are going to be giving the foot soak as a gift, you could put it in a larger container with directions to add 2 tablespoons to a basin of water.
**Update ~ KarenB asked for more information about the size of these jars so I thought I would update the post for everyone. These plastic containers are actually for beads so the volume size isn't written on the package. They are 1 7/8″ tall and 1 1/2″ in diameter. Each jar held 2 tablespoons which is enough for 1 foot soak. You can find them (affiliate link) HERE.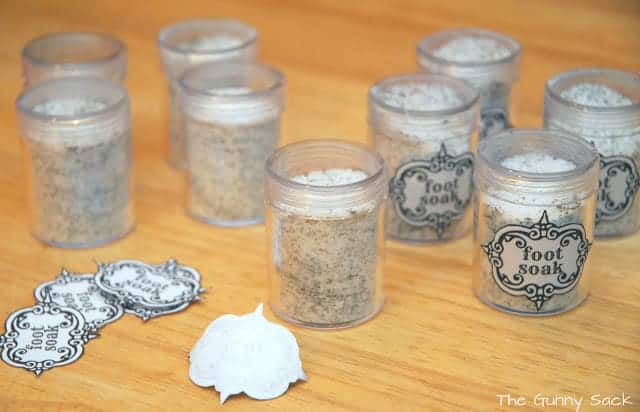 I made some vintage looking "foot soak" labels using Pixlr and PixMonkey. After cutting out the labels, I attached them to the containers using craft glue.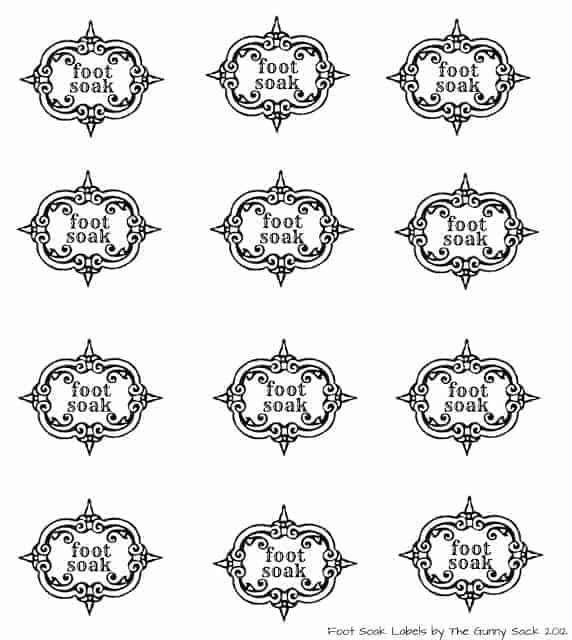 You can download this free foot soak printable HERE. I made it so that it is printable on an 8 1/2 x 11 sheet of paper but feel free to resize as necessary.
Then, we had to test the recipe…I know, I know…it's a hard job but someone's got to do it!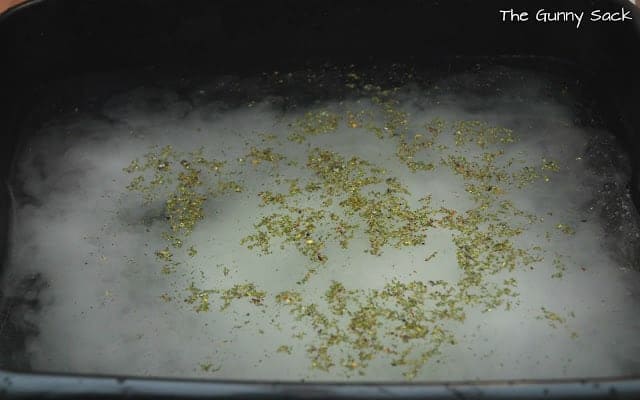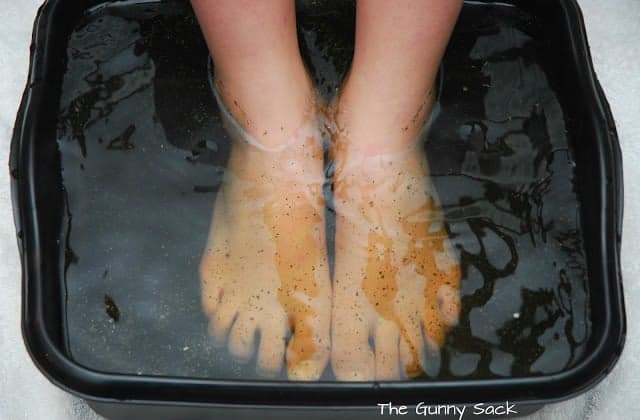 Looks wonderful doesn't it? Yes, it felt as good as it looks!
After the foot soak came the foot scrub! We combined 3 tablespoons of Arm & Hammer Baking Soda with 1 tablespoon of scented body wash and 1 tablespoon of water. Gently rub this mixture onto your feet and rinse well.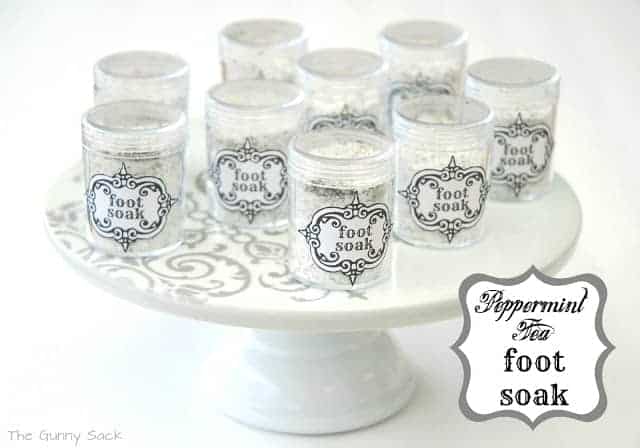 Peppermint Tea Foot Soak Recipe
by The Gunny Sack
1 cup baking soda
1/2 cup epsom salt
Contents of 4 peppermint tea bags (can substitute with your favorite tea)
Whisk ingredients together in a bowl and store in an airtight container. To use, add 2 tablespoons of peppermint tea foot soak mixture to a basin of warm water and soak feet in it.
Scented Foot Scrub
by The Gunny Sack
3 tablespoons baking soda
1 tablespoon body wash
1 tablespoon water
Combine ingredients in a small bowl. After soaking your feet, gently rub the mixture over both feet before rinsing well.