The spring wedding season is just around the corner, and a pink wedding candy buffet table would be so much fun! It could be set up at a wedding reception or at a bridal shower.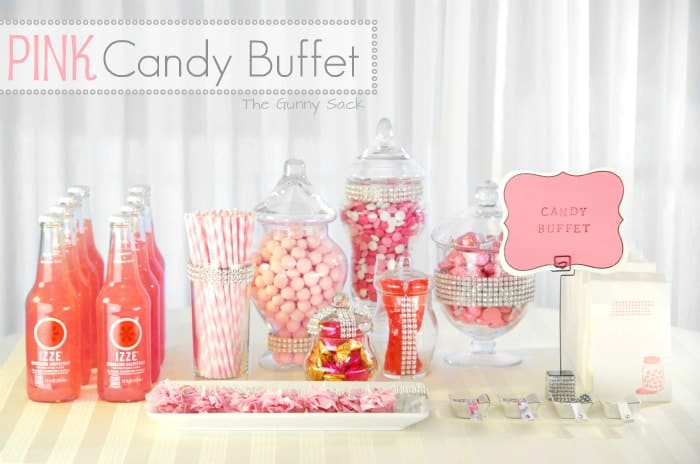 I decided to go with a pink, white, and silver theme for this candy buffet. When I was little, one of my aunts had pink and gray as her wedding colors. I thought it was so beautiful, so of course, I wanted pink and gray for my wedding colors "when I grew up"! By the time I got married, I no longer wanted those colors but thought it would be fun to use them for my table setup.
I purchased several apothecary jars to fill with candy. They happened to be on sale when I went into the store, so I saved a bunch of money and didn't even need a coupon! To decorate the jars, I attached bling to the jars using glue dots. If you are looking for a more permanent way to attach the bling, try using a glue like E-6000.
To make the Candy Buffet sign, I first covered a table sign base with rhinestones. Then, I painted a table number sign pink. Once the paint was dry, I stamped the words Candy Buffet in the center.
Next, I cut squares of pink polka-dot tissue paper and wrapped them around Blow Pops. I tied the tissue paper on with a piece of baker's twine and added a rhinestone to each one. I laid the lollipops on a white tray.
Once the lollipops were covered, I moved on to decorating the bags. I stamped the corner of plain white bags and added a piece of washi tape so that the bag could be held shut once they are filled with treats.
Finding pink candy wasn't as easy as I thought it would be. There are a lot of different bags of candy that have pink in the mix, but they aren't exclusively pink. I used strawberry milkshake Whoppers, Valentine's M&M's with the reds removed, pink foil-wrapped Hershey Kisses, milk chocolate Godiva truffles, pink, watermelon-flavored licorice and the covered Blow Pops.
For a beverage, I found sparkling grapefruit IZZE and added pink striped paper straws to a glass cup topped with rhinestones. The little silver candy scoops are lined up, waiting to be used. They already have a rhinestone on them, so I didn't have to add anything to them. I love how it all turned out. This kind of Candy Buffet wouldn't only have to be used for a wedding. Wouldn't it be fun for a baby shower or a birthday party too?