Root beer floats and summer go hand-in-hand! This ice cream float summer party is a fun twist on the traditional ice cream social.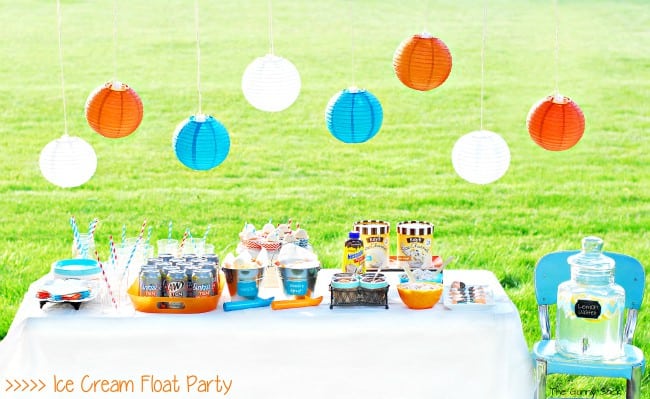 Today is the first day of summer and is there a better way to celebrate than with ice cream? I hosted an Ice Cream Float Party to kick the summer off to a great start! We had beautiful weather the evening of the party which was perfect because I wanted to set up everything outside. I made some treats to serve along with the root beer floats and orange cream floats. The relaxing evening was filled with good friends, delicious treats and lots of laughter. #IceCreamFloat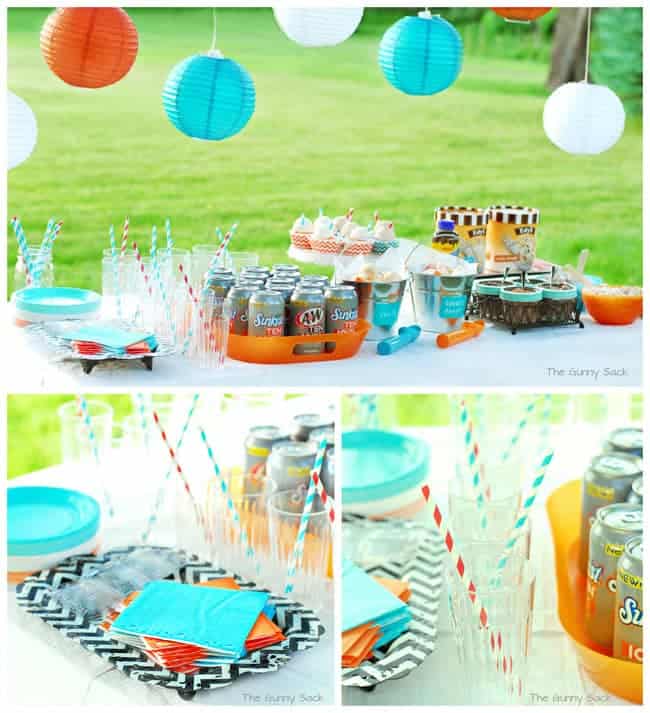 I went with an orange and aqua color scheme. My original plan was to use brown too but while shopping for supplies at Walmart, I didn't have much luck finding any brown supplies. So, I decided to go with just orange and aqua and I love how it turned out! I bought the black and white Chevron print tray during my very first visit to Hobby Lobby last Saturday. I filled the tray with napkins and plastic silverware. I wasn't able to find orange and aqua decorative napkins so I embellished plain napkins with a hole punch. I bought the plastic cups from Walmart and the striped paper straws from various stores.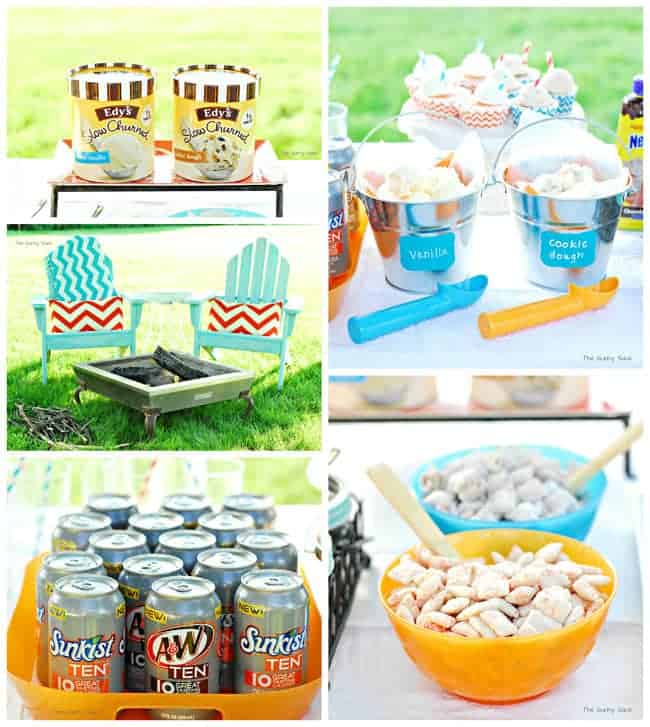 Even though I post dessert recipes quite often, I am always watching what I eat. I find that is very hard to do at parties when there are so many treats available. So, I served Edy's Slow Churned Ice Cream because it has 1/3 of the calories and 1/2 of the fat of regular ice cream. It is still delicious and gives me a chance to indulge a little! Edy's Slow Churned Ice Cream is very familiar to me because my parents almost always have the Caramel Delight flavor in their freezer since it is my dad's all time favorite ice cream! I prescooped the Edy's Slow Churned vanilla and cookie dough ice cream and froze it before the party. Then, right before serving, I filled the labeled buckets with the frozen scoops of ice cream making it easier for my guests to make their floats.
To go along with the ice cream, there was A&W TEN and Sunkist TEN so everyone could make their own floats. Both of these beverages have only 10 calories per can and they taste great! They are another way to indulge while counting calories. The day before the party, I made Root Beer and Orange Creamsicle Muddy Buddies so serve at the party. I will be sharing those recipes soon!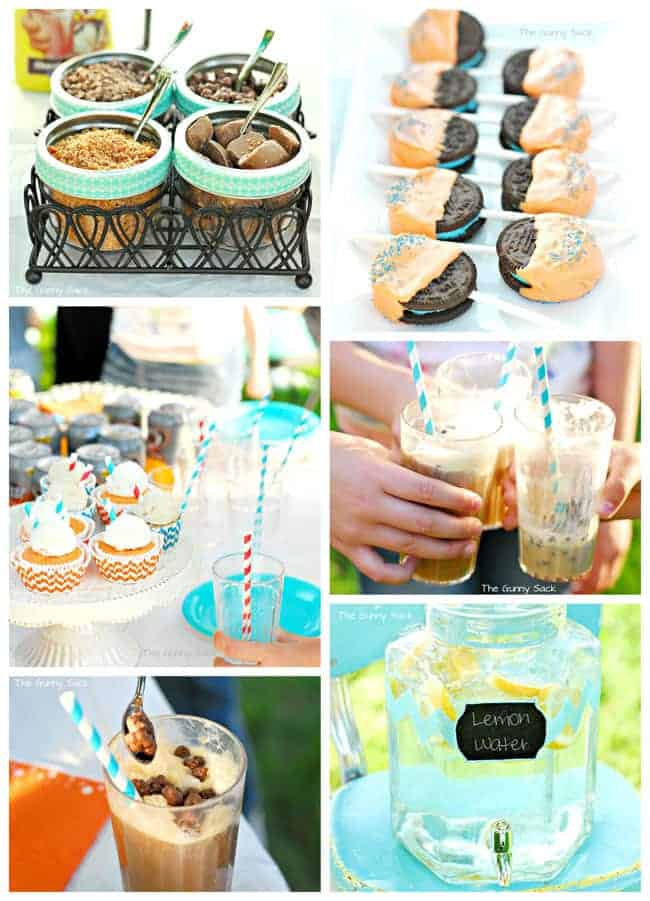 It's always fun to have toppings for ice cream and ice cream floats are no exceptions. For the ice cream sprinkles, I put Nestle Butterfinger Bites and Buncha Crunch into mason jars. In two of the jars, I put the candy straight from the bag and in the other two jars, I put chopped toppings. All of the mason jars got a strip of aqua washi tape before being added to the little wire holder. Another treat that I served was Summer Oreo Pops. They are Oreos with blue frosting, dipped in orange candy melts and topped with orange sprinkles. Since it was a warm evening, I put out some lemon water to keep everyone hydrated.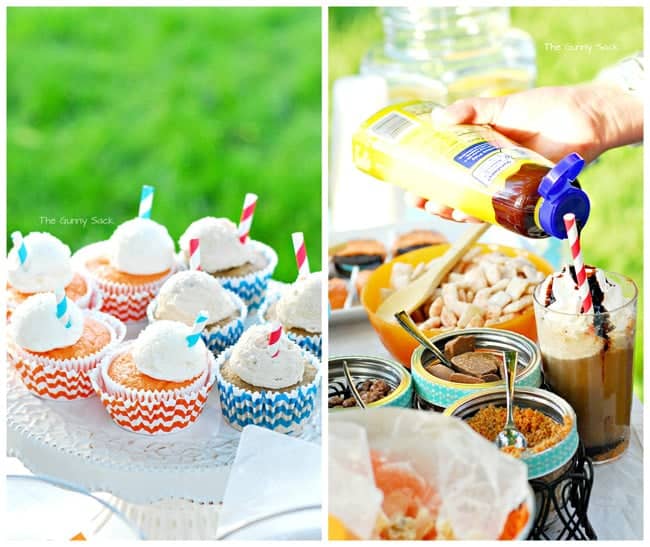 I also made Root Beer Float Cupcakes and Orange Creamsicle Cupcakes! I baked the cupcakes and mixed up the frosting the day before the party. Christine added the scoops of frosting and the paper straws before our guests arrived. In addition to the candy toppings, we also had whipped cream and Nestle Nesquick Chocolate Syrup.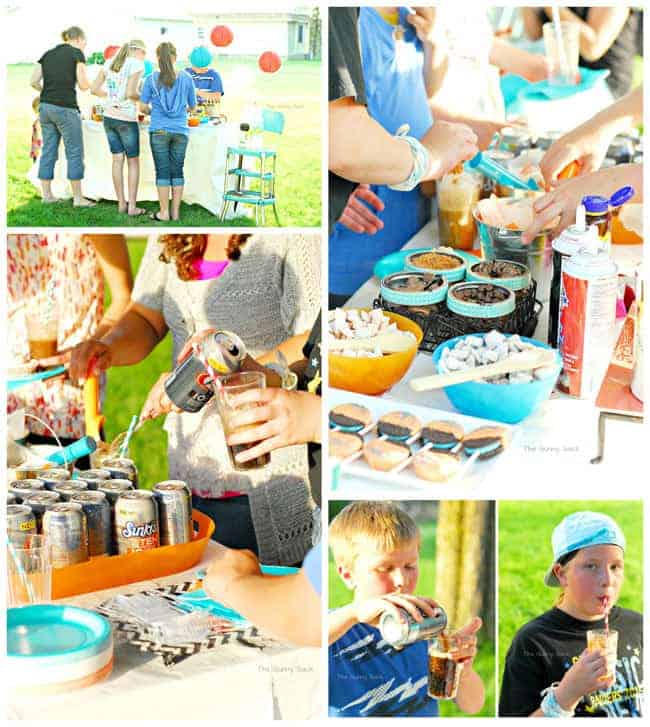 Everyone had so much fun at the party and they really enjoyed the treats! The root beer floats and orange floats were a great way to start the summer. No one noticed that I was serving them light ice cream and ten calorie pop because they were so delicious. We will continue to enjoy ice cream floats the rest of the summer at parties and barbeques. It seems like every time there is a summer get together no matter the occasion, someone brings the ingredients for floats! If you plan to make floats this summer, be sure to print a coupon for $1 off of 2 Edy's products!