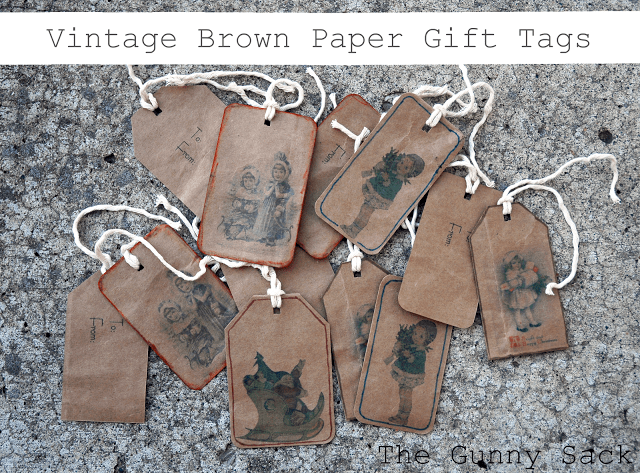 I made these vintage brown paper gift tags as a guest post over at Sugar Bee Crafts. I am posting the tutorial here in case you missed seeing it over there!
Cut out (2) 8 1/2 x 11 pieces of paper from a brown paper bag.
Print these images onto the pieces of brown paper or make your own image sheet, if you prefer. Just feed the pieces of brown paper into the printer the same way you would your regular paper. You can either print them by clicking on the image to make it larger and printing them from there or by getting them here and here.
Glue the 2 pages wrong sides together. Another option would be to print the tag wording in the reverse side of the paper but I had images on the back so I couldn't do that.
Cut out the tags and trim the corners by clipping at an angle or by using a corner rounder. Ink the edges or draw lines on the tags. Punch a hole in the top center of each tag and loop a piece of twine through the holes.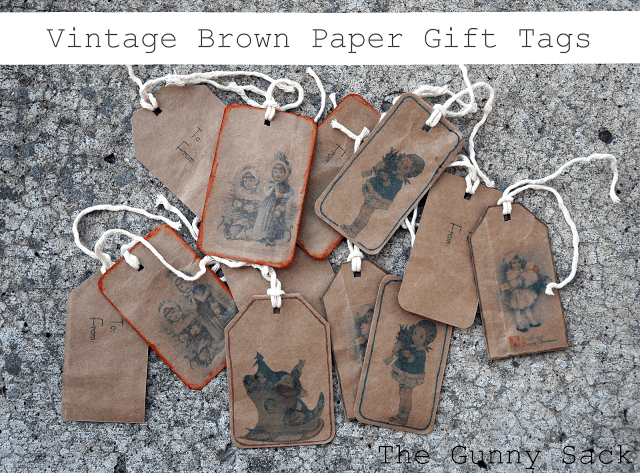 Now you have some vintage tags to add to your gifts that are so much cuter than what you can find at the store and a lot cheaper too!