This post may contain affiliate links. Please read my disclosure policy.
It feels as if there are countless gift-giving opportunities in the spring:  Mother's Day, Father's Day, Teacher Appreciation, Graduation, and all of the birthdays!  I'm not sure about you, but I like to give gifts to more than just my mom and mother-in-law on Mother's Day.  I like to include my sisters, sisters-in-law, friends, and my kid's Godmothers.  That ends up being a lot of gifts, so I try to keep it simple.  This year I am making these easy, washi tape pillow boxes for the Mother's Day gifts, but they can be used for any occasion!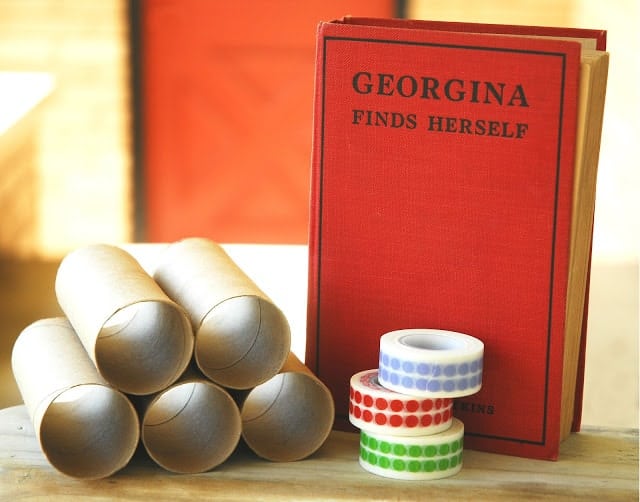 To make these pillow boxes I used an old book, card board tubes, a glue stick and washi tape.

I tore pages out of the book, glued them to the card board tube and trimmed off any extra paper.  Next, I pressed the edges of the tube toward the center to close the ends.  Then, I put a strip of washi tape around the tube.
For inside the tube, I cut thin strips of kraft paper and hand-wrote a message for the recipient.  I attached a piece of washi tape to the end of the strip and twisted it around a pencil so that it is curly.
The tubes can be stuffed with chocolates, an Anthropologie Multitude Knockoff Headband, lip balm, and of course, the curly note.  Add whatever you want but remember that there isn't much room!
Leave the washi tape tab from the curly note sticking out the end.